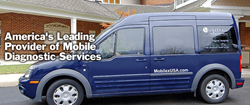 Phillipsburg, NJ (PRWEB) July 14, 2015
Mobilex USA, a subsidiary of TridentUSA Health Services of Sparks, Maryland, is the largest provider of mobile imaging services in the U.S. INFINITT announced today that TridentUSA Health Services has entered into a 7-year Partner Plus Agreement that is based on an unlimited software licensing model for INFINITT PACS and Cardiology Suite, in addition to custom software development. The contract also encompasses INFINITT's embedded voice recognition and reporting software, as well as the new Gx Communicator package (Critical Results, Peer Review and Collaborator Instant Messaging).
Currently, TridentUSA Health Services provides services to over 12,000 post-acute facilities across 43 states. Trident provides a high quality, low cost alternative for healthcare facilities and for Medicare, offering in-house bedside exams as an alternative to transporting patients to the hospital. The cost for Trident USA's services, delivered directly to patients in their rooms, is well below half the cost of hospital visits.
Trident's services are offered through a network of subsidiary companies, each with its own core specialty or specialties. Trident first started looking to replace the legacy PACS and image portal components four years ago and has seen growth into the multi-millions of studies per year.
"This is an exciting opportunity to demonstrate our technology leadership," said James Zongilla, Executive Account Representative at INFINITT North America. "We were chosen by Trident because their complex service architecture falls outside the norm for imaging services, and they need a company that is strong on customization and product development. INFINITT's Partner Plus agreement was developed for just that type of client."
"One of the goals of this partnership is to create a new model for imaging and ancillary services that will reduce the total cost of healthcare in this country, while maintaining the highest standards of patient care."
Imaging exams are predominantly Digital Radiography and ultrasound, and the INFINITT PACS also archives electrocardiograms electronically.
About INFINITT North America
INFINITT North America is a wholly-owned subsidiary of INFINITT Healthcare, a global company with more than 3500 PACS installations in 45 countries. Infinitt's latest developments include the INFINITT Healthcare Platform (IHP), an enterprise-class Vendor Neutral Archiving (VNA) solution that will unify content across disparate systems and all data formats. It provides open, standards-based storage and manages DICOM and non-DICOM data with intelligent Lifecycle Information Management. The new platform makes it easier and more cost-efficient to manage data across multiple sites and to comply with retention policies and security regulations.
For more information, call 877-387-6960 or visit INFINITT at HIMSS15 in Chicago, booth #6941.
Contact:
Deborah Reed
INFINITT North America
908.387.6960
marketing(at)infinittna(dot)com