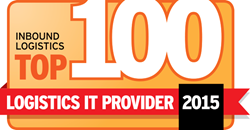 Retail, logistics, transportation, healthcare, and other organizations must move more orders in a shorter timeframe to more customers at a lower cost, while adapting to changing conditions automatically.
(PRWEB) July 14, 2015
Cheetah Software Systems has been chosen as one of the top Logistics IT Providers by Inbound Logistics for the 10th consecutive year! Cheetah offers one of the world's most advanced Logistics Technology Platforms and has helped completely transform businesses in the retail, courier, transportation, logistics, delivery and healthcare industries. Over the last 25 years, Cheetah has consistently delivered two specific business results. First, unmatched Consumer Experience with its accuracy of delivery-time prediction and live visibility with automated adapting to changing conditions including traffic, driver changes, and cancellations. Second, reducing Operating Cost significantly from on-road, dispatch, customer service and other functions with its enterprise-level platform and automation.
"When choosing the 2015 Top 100 Logistics IT Providers, Inbound Logistics editors looked at excellence in optimizing internal transport and logistics operations. At a higher, more strategic level, selections were based on how transformative solutions impact outward-facing business activities driving integration across internal, as well as external, business processes. Cheetah Software Systems was selected because its solutions solve specific logistics challenges and improve processes, and create a ripple effect of efficiencies across the entire value chain. Inbound Logistics is proud to honor Cheetah Software Systems for innovative solutions empowering logistics and supply chain excellence in 2015," commented Felecia Stratton, Inbound Logistics editor.
"Global e-commerce, sophisticated supply chains, and interconnected logistics networks result in numerous smaller transactions that are more time-constrained," said Bobby Darroll, Cheetah's Founder and CEO. "Retail, logistics, transportation, healthcare, and other organizations must move more orders in a shorter timeframe to more customers at a lower cost, while adapting to changing conditions automatically. We're excited that Cheetah's continuous advancement in this area over the last 30 years is recognized by the industry every year and has been helping so many businesses."
Methodology:
Every April, Inbound Logistics editors recognize 100 logistics IT companies that support and enable logistics excellence. Drawn from a pool of more than 300 companies, using questionnaires, personal interviews, and other research, Inbound Logistics selects the Top 100 Logistics IT Providers who are leading the way in 2015. Editors seek to match readers' fast-changing needs to the capabilities of those companies selected. All companies selected reflect leadership by answering Inbound Logistics readers' needs for scalability, simplicity, fast ROI, and ease of implementation.
About Cheetah Software Systems, Inc.:
CHEETAH is the Precision Logistics and Route Optimization platform of choice for top-performing companies in LTL, courier, medical/healthcare and retail delivery. Cheetah dynamically manages fleets, routes and schedules in real-time so that every vehicle on the road drives fewer miles and makes more on-time deliveries. It automatically adjusts to incoming business orders and changing conditions while synchronizing your entire organization with visibility and dynamic decision support for drivers, dispatchers, customer service reps, managers and others. Cheetah makes your business better at every turn. Customers include leaders like Macy's, Ward Trucking, Cardinal Health, JS logistics, Central Freight, and many, many others. Find out more at http://www.cheetah.com.
About Inbound Logistics:
Since its inception in 1981, Inbound Logistics' educational mission is to illustrate the benefits of demand-driven logistics practices, give companies the knowledge to help them match the inbound flow of materials to their demand, and align their business process to support that shift. Inbound Logistics offers real-world examples and decision support to guide businesses to efficiently manage logistics, reduce and speed inventory, and offset rising transport costs, supporting business scalability across their value chain. More information about demand-driven logistics practices is available at http://www.inboundlogistics.com.