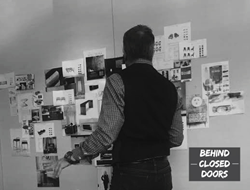 Viewers will virtually walk the halls of KNA, sneaking peeks of the inner workings of one of LA's top design firms.
Westlake Village, CA (PRWEB) July 13, 2015
When it comes to the creative industries the public is used to seeing the final product. People flock to gallery premieres, collection launches and restaurant openings to experience the latest trends. But what is more intriguing than a look behind the scenes? Understanding people's innate curiosity about the steps between inspiration and production Kirk Nix will begin sharing images of his office and creative process on July 19th across his social media platforms.
Inspiration is more than a collection of images, especially for an interior designer inspiration is closely tied to environment. Thus, part of this inside look at Kirk Nix will consist of pictures from behind closed doors at the offices of KNA Design firm. In order to create beautiful spaces, one must first be in a beautiful space. Fans and followers will get the chance to step inside a truly well-appointed workplace.
Viewers will virtually walk the halls of KNA, sneaking peeks of the inner workings of one of LA's top design firms. Known for his extensive book collection, Kirk fans and followers can see firsthand the library of luxe which the designer has amassed. Books have been collected from all over the world, and their topics cover high art, pop culture and everything in between. Look closely for Kirk's signature sticky notes sprinkled throughout the shelves.
As more and more of the design process moves towards technology Kirk's viewers will be pleasantly surprised to see hand sketches, mood boards and more. Interior design is so closely tied to the look and feel of the materials themselves that of course one will see swatches, finish blocks and tiles featured in the campaign.
Especially in the case of Kirk, whose projects typically range from exclusive celebrity homes to extravagantly priced suites and villas in top tier international hotels and resorts, this campaign will offer a look into a world inaccessible to most people.
Viewers can be a part of this exciting new campaign by following Kirk Nix Twitter (@kirk_nix), Facebook and Instagram (@kirk_nix).
About Kirk Nix
Kirk Nix is the founder of KNA Design, and has been the design visionary for luxury hospitality projects such as the Venetian, Raffles, the villas at Caesar's Palace, and most recently the Solaire in Manila. Additionally, Kirk has an extensive residential portfolio. For more information visit his website.
About A Design Partnership
Founded in 2009 and located in Westlake Village, California, A Design Partnership is a marketing and branding agency specializing in servicing the creative industries. Follow them on social media or at their website http://www.adesignpartnership.com