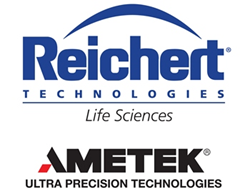 At Reichert, we're committed to developing technologies in areas that need it most. Our Reichert4SPR portfolio delivers affordable systems with improved performance, high reliability and enhanced flexibility.
BUFFALO, N.Y. (PRWEB) July 16, 2015
Reichert Technologies, a business unit of AMETEK Ultra Precision Technologies, will showcase its latest Surface Plasmon Resonance (SPR) innovations and capabilities at the 29th Annual Symposium of the Protein Society. The Annual Symposium is a prominent scientific forum that highlights the latest advances in protein science. This year's event takes place between July 22 and 25 in Barcelona, Spain. Attendees can view Reichert's technology and data at booth #17, which includes the new 4-channel SPR system for label-free, real-time investigation of biomolecular interactions.
"At Reichert, we're committed to developing technologies in areas that need it most. Our Reichert4SPR portfolio delivers affordable systems with improved performance, high reliability and enhanced flexibility," comments Phil Page, Application Scientist for Reichert Life Sciences. "Pharmaceutical and biotechnology organizations worldwide rely on Reichert for technical innovations that greatly improve the speed and quality of data generated throughout the drug discovery process."
The Reichert4SPR allows drug discovery researchers to maximize their efficiency, flexibility and throughput by combining four channels with industry-leading sensitivity and baseline stability. The 4-channel system also offers lower operating costs and allows users to achieve greater purchasing value through the addition of an easy-to-access fluidics system. Additional benefits of the Reichert4SPR system include:

Phenomenal detection. Leading sensitivity delivers excellent results for even for the most challenging small molecule and fast interaction experiments
Baseline stability. Low baseline drift improves data fitting
Robust fluidics. Allows users to run demanding assays for crude samples, lysates or aggregates
Reliable support. Easy-to-maintain systems with professional on-site training and support
User-friendly software. Intuitive software offers extensive reporting options and data optimization
Reichert's SPR systems cater to the diverse needs of academia and industry, with the most cost-effective, sensitive and flexible platforms in today's marketplace. These systems comprehensively characterize the molecular interactions critical to numerous scientific disciplines, including protein–protein, protein–peptide, protein–nucleic acid, and protein–small molecule interactions among others.
Symposium attendees will experience the latest innovations and demonstrations at the Reichert booth #17, which is located in the Montjuïc Exhibition Centre. For more information or to set-up a briefing at the symposium, please contact Jeff Bornheim at jeff.bornheim(at)ametek(dot)com.
# # #
About Reichert Life Sciences
Reichert Life Sciences' entry into the design and manufacturing of Surface Plasmon Resonance (SPR) instrumentation began in 1997 with efforts to incorporate bio-sensing technology into Reichert's core critical angle refractometer products. This technology built upon a key Reichert patent (US Patent #4,640,616) that describes a digital reflected light refractometer incorporating a charge-coupled device to sense reflected light intensity over a range of angles covering a refractive index range from 1.33 to 1.52. Reichert has since utilized its applications knowledge to develop a full line of SPR systems that push the limits of detection and sensitivity in label-free interaction analysis with technology that drives research from discovery to development to production. Since the sale of Reichert's first SPR device in 2000, the company's equipment has been used in hundreds of published studies.
About Reichert Technologies
With more than 150 years of history, Reichert Technologies of Buffalo, New York, is a global leader in the design, development, manufacture and sale of analytical and life science instruments, ophthalmic, and medical devices. Reichert also offers laboratory and portable/field refractometers for the automotive, food and beverage, chemical and industrial markets as well as clinical instrumentation for the healthcare market.
About AMETEK, Inc.
Reichert Technologies is a unit of AMETEK Ultra Precision Technologies a division of AMETEK, Inc., a global leader in electronic instruments and electromechanical devices.
Click here for a hi-res image of the Reichert 4SPR System.