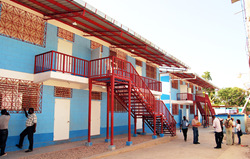 We accomplished all of our major goals and succeeded at what many thought was not possible.
COLORADO SPRINGS, Colo., and PORT-AU-PRINCE, Haiti (PRWEB) July 14, 2015
Compassion International closed the doors of its Disaster Response Office in Port-au-Prince, Haiti last week, marking the successful completion of its relief and recovery projects following the 2010 earthquake. The office was created to manage the more than $31 million raised toward Compassion's recovery efforts in Haiti, which assisted more than 60,000 Haitian families.
The ministry of Compassion Haiti was significantly impacted by the earthquake. In addition to the trauma suffered by all Haitians, 63 Compassion beneficiaries were killed, 954 were injured and hundreds lost siblings and parents. In addition, one Compassion staff member was killed and eight staff lost immediate family members. Sixty-nine of the ministry's church-based projects were impacted by the earthquake with 44 either destroyed or having significant damage.
Compassion's relief and recovery efforts began immediately following the earthquake. In all, Compassion implemented 21 strategies aimed at helping children and families, church partners, staff, operations, long-term development and strategies. These included:

Trauma counseling for 115 Compassion Haiti staff and their children and for 9,300 Compassion beneficiaries
Medical and sanitary supplies to 85 Compassion projects – impacting 23,000 children – and medical supply kits to 24 medical centers
Temporary shelters for 875 staff and approximately 20,000 beneficiaries
Short-term food security for more than 15,700 families
Entrepreneurial training to more than 1,200 people and $1.2 million in income-generating loans, resulting in the creation of 450 small businesses and thousands of jobs
Reconstruction on 30 schools damaged or destroyed in the earthquake to international seismic standards, impacting approximately 17,500 beneficiaries
Implementation of support and protection measures for children who became highly vulnerable following the earthquake
"Though we are not a disaster relief organization, Compassion responds when a disaster directly impacts the children and families we serve," said Herb Ehresman, Compassion's director of complementary interventions. "Disaster fundraising can be complex and challenging if not done correctly. Compassion's response to the Haiti earthquake is a good example of the organization's ability to raise funds intently, strategically identify areas of greatest need and efficiently implement the use of those funds to carry out effective disaster response efforts."
Compassion has been in Haiti since 1968. The ministry's church-based, holistic child development program currently serves nearly 80,000 Haitian children and their families in 270 church-based centers throughout Haiti.
"We accomplished all of our major goals and succeeded at what many thought was not possible," said Matthew Moore, Compassion's management support director for Haiti. "An amazing international team came together in a time of great misery, and as a team, with God's grace, we brought hope to thousands. We hope there will never be a need like this again, but if there is, we are grateful to know that Compassion is ready to respond."
For more details on Compassion's relief and recovery efforts in Haiti, please contact Tim Glenn at tglenn@us.ci.org or 719-272-5377, or Becca Bishop at bbishop(AT)us.ci.org, or 719-272-5109.
ABOUT COMPASSION INTERNATIONAL:
Compassion International is the world's leading authority in holistic child development through sponsorship. Compassion revolutionized the fight against global poverty by working exclusively with the Church to develop children out of poverty to become responsible, fulfilled Christian adults. It is the only child sponsorship program to be validated through independent, empirical research. Compassion partners with more than 6,800 Christian churches in 26 countries to release over 1.7 million babies, children and students from poverty in Jesus' name. Compassion has been awarded the highest rating for financial stewardship and transparency for 14 consecutive years by Charity Navigator, America's largest charity evaluator. For more information on the ministry, visit compassion.com or follow them on Twitter at @compassion.