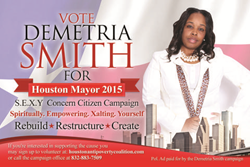 To generate wealth is to fight against poverty
Houston, TX (PRWEB) July 15, 2015
Demetria Smith, a Houston native, small financial business owner with a background in mortgage finance/lending, and "Texas woman ambassador," is running for Houston mayor this year to replace term-limited Annise Parker.
Smith declared her candidacy on April 3, 2015, and has not been invited to any mayoral forums and debates by the political establishment. She feels her candidacy has been excluded until recently and that the mistreatment was unfair to herself, women, and Houstonians as a whole, as it deprives citizens of choice in leadership for their city.
Smith plans to create a unified Houston, bringing about peace, love and unity, in her efforts to work for the common good of all people. Her 2015 mayoral campaign is underway, featuring a platform that battles poverty throughout the city, judiciary reform, and eliminating discriminatory practices.
Smith has been a strong advocate for groups often overlooked by the political establishment, especially those near the poverty threshold -- women, children, and individuals with criminal records attempting to return to the workforce. Earlier this year, for example, Smith lobbied heavily for House Bill 418, which was approved in May and addresses child trafficking and the immediacy with which victims can be placed into care.
A mother of six and grandmother of four, Smith understands the importance of providing assistance for single mothers and others in the community who struggle to become independent from government assistance. She is a parents' rights advocate who not only lobbied for a bill to protect families from being bullied by child protective services, but also educates parents on their rights and how to fight unfair practices in order to regain custody of their children.
Much of Smith's focus on poverty-stricken communities involves initiatives that help citizens become homeowners. She believes education is key, and that strengthening the individual citizen is the best way to strengthen the economy. A large part of her plan to reduce the city's deficit involves generating more revenue through increased homeownership, business ownership and entrepreneurship, and by addressing the shared responsibility between lenders and Houstonians for the latter becoming more skillfully trained. "To generate wealth is to fight against poverty," Smith maintains. She is committed to applying her skills acquired in the financial lending industry to take on many of the poverty-related issues affecting the city.
Another focus of her deficit reduction plan involves eliminating what she identifies as the imprudent wasting of funds allocated for developing underserved communities. Money designated for these areas all too often ends up being siphoned off for other projects. Smith is adamant that elected officials should be held accountable by their constituents, asserting she "knows how to fight the system and is not afraid" to do so. She will take on such biased practices by promoting financial literacy to families throughout the city, and by directly lobbying to remove discriminatory individuals from their positions when they have failed to serve their communities.
Smith also plans to promote the H.E.A.L. (Help Empowerment Accountability Leadership) Initiative Program, which serves to build the trust between law enforcement and the citizens of Houston. Public safety is an additional feature of her platform, which in large part focuses on biased practices and prejudicial standards.
Please join our efforts at:
http://www.houstonantipovertycoalition.com
To Join our campaign Volunteer Team, please go to:
http://www.demetriasmithforhoustonmayor.com
Learn more and see videos at:
https://www.facebook.com/pages/Demetria-Y-Smith-for-Houston-Mayor-2015/1599333770283919
Please come out and support Demetria Smith at her Free weekly fundraising event on Wednesdays @ Epic22 Lounge – 4pm – Mix & Mingle Happy Hour Reception with Mayoral Candidate, Demetria Smith (Free admission, food, and music)