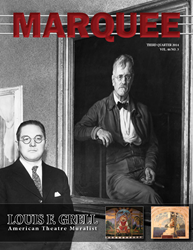 Louis Grell is possibly America's greatest "undiscovered" muralist and portrait artist. For more than five decades, Grell traveled the country painting exquisite murals. We are delighted to awarded the 2105 DuBuque Research Fellowship to Richard Grell.
Elmhust, IL (PRWEB) July 15, 2015
Theatre Historical Society of America recognizes Richard Grell's research focusing on the art of muralist Louis Grell, and his important contribution to our knowledge of art and architecture in America's historic theatres. Louis Grell's murals are featured in several Rapp & Rapp designed theatres including the Chicago Theatre, and the Paramount Theatres in Toledo, Ohio and Times Square, New York. Other theatres include the Palace Theatre in Greensburg, PA, which was a stop on THS's 2014 Conclave Theatre Tour, the Paramount in Ft. Wayne, IN and many more. During a career that spanned the first half of the 20th century it is estimated that Louis Grell painted 300 murals. He is considered one of America's greatest 'undiscovered' mural and portrait artists.
Today, Richard Grell helps run the Louis Grell Foundation which documents and celebrates the life and work of Louis Frederick Grell. The Grell Foundation's scholarship and research highlights his work in theatres and non-theatre buildings. Richard has worked with THS writing a feature length article on Louis Grell in our 3rd Quarter 2014 issue of Marquee Magazine. Research for that article led to the discovery of yet another theatre mural in Fond du Lac, WI. We are pleased to award the 2015 DuBuque Fellowship to Richard Grell to help him continue his important research on the work of his granduncle, Louis Frederick Grell. Follow this link to read more about Louis Grell and his murals in historic theatres.
ABOUT THE DUBUQUE FELLOWSHIP: The Thomas R. DuBuque Research Fellowship was created to honor the memory of past THS president, Conclave Theatre Tour planner, and dedicated volunteer, Thomas R. DuBuque. Mr. DuBuque had a lifelong interest in theatres and was a member of THS from 1979 until his death in 2011.
Established in 2012 to support scholars conducting research in the Society's archives, the Fellowship awards certificates and a cash award of $1,500 to support related expenses to visit the THS archive in Elmhurst, IL. Past Recipients of the DuBuque Research Fellowship include Jeff Thompson, Amy Davis, and Dr. Ross Melnick. Visit our website to learn more about the DuBuque Research Fellowship, including how to apply for the 2016 award.
ABOUT THS: Founded by Ben Hall in 1969, the Theatre Historical Society of America (THS) celebrates, documents and promotes the architectural, cultural and social relevance of America's historic theatres. Through its preservation of the collections in the American Theatre Architecture Archive, its signature publication Marquee™ and Conclave Theatre Tour, THS increases awareness, appreciation and scholarly study of America's theatres.