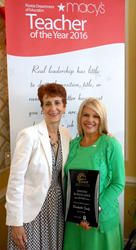 (PRWEB) July 21, 2015
Elizabeth Oody, the School District of Bradford County's 2015 Teacher of the Year, received statewide recognition and an award of $1,000 from the Consortium of Florida Education Foundations (CFEF) and Florida Power & Light July 10 for tremendous impact on the lives of her students, school and community.
She was chosen from among 67 county-wide teacher of the year honorees as the CFEF's annual "Invested in Excellence" recipient for exemplary dedication to her students. Florida Power & Light sponsored the award with FPL Education Manager Maureen Wilt making the surprise announcement during concluding presentations at the Macy's/Florida Department of Education Teacher of the Year Program in Orlando.
She was singled out for her focus on developing strong relationships with her students coupled with high expectations -- efforts that have resulted in writing scores doubling for her 10th grade English students in her classroom at Bradford High School.
"Elizabeth Oody epitomizes what it means to be a professional educator," said Bradford County School District Superintendent Chad Farnsworth. "Her efforts also represent what so many teachers do every day help each of their students maximize their full potential."
Drawing on her previous 17 years of teaching experience in another school district, she has developed and implemented innovative programs in her two years at Bradford High School including garnering community support for the school's first Literacy Fair and acting as the community liaison for the Positive Behavior Support team at her school.
"We know it takes extra effort for teachers to seek business and community involvement and investment in their classrooms, which is a large part of what local education foundations do in providing classroom grants and other above-and-beyond opportunities for teachers and students," said Mary Chance, president of the CFEF. "We sponsor this award with our business partner Florida Power & Light to annually celebrate a teacher of the year honoree who has a consistent focus on excellence in their classroom, including bringing outside resources and opportunities for their students."
The CFEF is the membership organization for Florida's school district-wide local education foundations, including the Bradford County Education Foundation. Established in 1987, the CFEF now has 60 member foundations with 1,100 business and community leaders serving as volunteer board members. Collectively, they raise more than $45 million annually to support students, teachers and schools through a variety of programs.