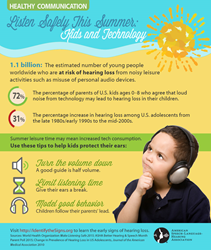 Rockville, MD (PRWEB) July 14, 2015
With an estimated 1.1 billion young people worldwide at risk of developing hearing loss from noisy leisure activities such as misuse of personal audio technology, the American Speech-Language-Hearing Association (ASHA) is urging parents to help kids protect their ears this summer with a few simple tips.
Unsafe listening practices, such as listening to devices at too high volumes or for too long, can lead to noise-induced hearing loss. While this type of hearing loss is completely preventable, once it occurs, it is irreversible.
Download the ASHA infographic here: http://identifythesigns.org/listen-safely-this-summer-kids-and-technology/.
For more information about kids and hearing loss, visit http://IdentifytheSigns.org.