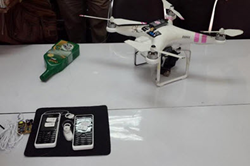 "People and law enforcement need time to react, and so the further out the drone is detected, the more time there is to take counter measures."
Austin, Texas (PRWEB) July 14, 2015
The industry leader in drone detection—Austin, Tex.-based Drone Labs—has accomplished a major feat: Its Drone Detector™ recently conducted a range test at Lake Pflugerville in Texas, and blew out its previous detection-distance record by identifying, in seconds, a DJI Phantom 2 Vision+ and its operator from one-kilometer away.
Previously, the Drone Detector, which uses a layered approach currently comprised of audio and radio frequency identification, had been able to "see" out to 500+ meters, while its competitors, typically using only audio capabilities, can track a drone at just 400 feet but they need complete silence to do anything. This renders audio detection useless in any cityscape.
Because no other company can track a drone by GPS coordinates, no other company can find a drone's operator and no other company can come close to tracking at a one-kilometer distance.
"We continue to refine our techniques and our technology, and are getting results beyond even our expectations," said Zain Naboulsi, Drone Labs' CEO. "People and law enforcement need time to react, and so the further out the drone is detected, the more time there is to take counter measures."
To see the test, visit https://www.youtube.com/watch?v=TxDlm50LmZU. Feel free to embed this video with your story. For more information on the device, Drone Labs' DD610AR, visit http://www.dronedetector.com.
For media inquiries, please call Vicki Contavespi at (844)437-6635, ex:705; you may also email at Vicki(at)dronelabsllc(dot)com.
About Drone Labs
Founded in Austin, Tex., Drone Labs and its flagship product, Drone Detector, provides drone security solutions for customers world-wide. It is the world's most advanced drone-detection system. Each installation is custom made but is easily retrofitted into any security system. For more information, visit http://www.dronedetector.com.