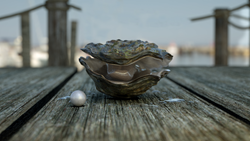 We couldn't help but draw the parallel between the making of a pearl and the creation of an idea, which is what deep's known for.
Springfield, Mo (PRWEB) July 14, 2015
The Marlin Network, an advertising agency group in the Southwest Missouri area, recently celebrated its 30-year anniversary with an online marketing campaign, created in collaboration with one of its agencies, deep, and Bruton Stroube.
The online marketing campaign by deep featured a series of videos leading up to The Marlin Network annual breakfast at the National Restaurant Association show. Drawing inspiration from the pearl, deep developed the theme for the event: Pearls of Wisdom.
"Each year, one of our agencies is responsible for coming up with the theme for the Marlin Network breakfast," says Dan Stewart, partner and creative director at deep. "As the traditional gift for a 30-year anniversary, we couldn't help but draw the parallel between the making of a pearl and the creation of an idea, which is what we're known for. Both begin as a tiny grain and eventually work their way into the realization of something unique and valuable."
With the help of Bruton Stroube, an independent photography and motion studio in Missouri, deep did just that. The team drew on the significance of the pearl and created a series of seven videos found on wiseoyster.com, reflecting on 30 years of foodservice marketing experience and featuring a wisecracking oyster. These videos were used to extend invitations to the Marlin Network breakfast in a series of eblasts, offering salty "pearls of wisdom" on everything from trends to agency politics.
"The Marlin Network breakfast attendees got a kick out of the oyster character, especially because he turned out to be a bit of a wise guy," says Valeri Lea, partner at deep. To top it all off, one of our clients, Garage Graphics, brought our salty character to life as unexpected decor for the event."
To read more about the Pearls of Wisdom campaign, visit deep's blog, and to learn more about deep's work and clients, visit deepgroup.com.
About deep
Founded in 2005, deep is a renowned food-branding agency that creates successful business-to-business and direct-to-consumer advertising campaigns across the United States and around the world. Deep is part of the Marlin Network, which represents over 70 food and beverage brands. The Network also consists of FoodIQ, STARAwards, The Alchemedia Project, Marlin and Marlin Network Consulting. Based out of Springfield, Missouri, Marlin Network is the number one purchaser of foodservice media and was listed in Inc. Magazine's list of America's Fastest Growing Companies in 2010, 2011, 2012, 2013 and 2014. To learn more about deep, visit deepgroup.com or follow the agency on Twitter, Facebook, Pinterest, Instagram and the b!eep blog.