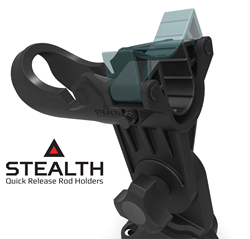 The elastomer cam grips and secures the rod. Just pull up to release and set the hook.
Roswell, Georgia (PRWEB) July 15, 2015
Fishing rod holders have to do two things really well; They need to keep rods secure, but also virtually disappear when it's time to set the hook. The rub is in the transition from one to the other. It's usually in this narrow space of time that the fish has the opportunity to get away.
Locking straps, rotating collars, and complicated spring mechanisms all aim to achieve just the right balance of security without limiting speed, but very few rod holders actually deliver on that promise.
Stealth Products LLC, a start-up fishing accessories company specializing in rod holders and mounts, announced the release of the QR-1 Rod Holder. An innovative new product that features a patented elastomer release mechanism that is very simple but effective. It allows fishermen to secure or release their rod handle with just a single motion.
Stealth President Jason Begin said, "The beauty of the Stealth QR-1 rod holder is in its simplicity. With only one moving part, its easy, intuitive, and super fast. The response from our customers has been overwhelmingly positive and we are very proud of how well this product performs on the water. "
What makes the Stealth QR-1 different is the patented elastomer cam. The cam works because it uses 2 opposing flexible cams that want to be either fully open, or fully closed. When a rod handle is inserted into the cam and pressed down, it engages and snap closed. It's a very simple mechanism that solves some key concerns.
•Security
Because the cam actually grips the handle, the only way to release is to pull up, opening the cam. Forces in any other direction dampened.
•Quick Set
The same motion that releases the cam also sets the hook. It just feels like the rod holder disappears.
•Durability
Constructed of Engineering grade Nylon and UV resistant polymers the QR-1 is well built and tested.
•Compatibility
Don't like drilling holes in your boat? Stealth bases are compatible with leading competitors. Fishermen can use bases that they already own, or replace them using the existing screw holes.
•Simplicity
More parts equal more ways to fail. With only one moving part, the QR-1 is built to last. And, the design is fail-safe. Unlike products that spring open, if a cam does fail on a QR-1, the rod is still nested in the holder.
About Stealth Products LLC
Stealth Products LLC is a start-up fishing accessories company based in Roswell, Ga. It's founder, Jason Begin, is a product designer who has worked with leading boat builders, retailers, and manufacturers throughout his career. Interested in solving the difficult problem of a product that needs to do opposite things (secure but quick to release) really well, Stealth Products was formed in 2014.
Stealth Products LLCs is a family business operated by Jason, Cari, and their boys Cole and Tanner. They are a small company focused on bringing simple and unique solutions to market with an emphasis on excellent customer service.
Stealth Products LLC is also a Proud Supporter of American Rivers.Org, with a portion of their proceeds directed to protecting our waterways for future generations of anglers.