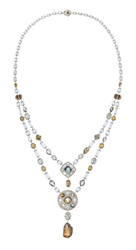 PARIS, FRANCE (PRWEB) July 14, 2015
Totally untouched by man, diamonds in their roughest, purest form provide an organic feeling of being a gift of nature, accentuating the rare and very special sensation of connecting with an antique treasure. De Beers pioneered the introduction of rough diamonds into modern jewellery with the launch of the Talisman collection.
François Delage CEO De Beers Diamond Jewellers comments: "We are delighted to unveil the De Beers Talisman unique creations here in Paris during Haute Couture. These feminine and timeless designs beautifully reveal the raw beauty of our natural rough and polished diamonds in a sensual combination. They are also showcasing our exceptional jewellery craftsmanship in particular through the unique "serti-poincon" setting which lifts the diamond into the light."
The Wondrous Sphere was revealed during the presentation. This one-of-a-kind creation is a striking white gold articulated sphere, symbolising the genesis of talisman. Featuring a stunning central 13 carat olive green rough diamond, surrounded by a three dimensional sequence of rare diamonds, the Wondrous Sphere embodies correlation by the fusion of light and colours, and enlightenment by its mystical inspiration. Motion and movement are embodied by the mobile circles of the creation, reminding us of the man's quest for discovery.
With High Jeweller y pieces and an array of stunning jewelled creations, the collection is an invitation to become part of the story in which each talisman is intimate and unique to the beholder. The De Beers finest craftsmanship is associated with the Talisman codes and techniques developed to set rough diamonds on a classic High Jewellery line. Enriching the diamond sequence, the High Jeweller y set displays a beautiful hand selected array of diamonds: round brilliants, baguettes, mixed cuts exceptional rough diamonds. The rough is set as if floating on the knife-edge getting the maximum light thus highlighting its natural beauty.
These unique High Jewellery creations will be showcased globally after Paris. Also revealed in Paris are the new Talisman jewellery designs that will launch in stores from September 2015.