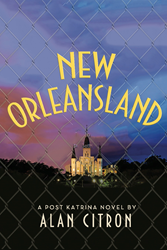 NEW ORLEANS, La. (PRWEB) July 15, 2015
First there was big tobacco; then big oil. What's next? Big entertainment? That's the premise of "New Orleansland," a new novel by New Orleanian Alan Citron that's available today through Amazon, Amazon's Kindle, Nook and Apple iBooks. Set in post-Hurricane Katrina New Orleans, "New Orleansland" satirically explores the premise of an entire city being appropriated by a mega conglomerate to create the world's largest theme park.
The story begins in the summer of 2006, one year after Hurricane Katrina. Most of the world looks on and sees seemingly insurmountable challenges in New Orleans. In Hollywood, however, LouisCo., the world's biggest theme park company, sees opportunity. Their solution? Privatize the city and convert it into the first corporate-owned municipal theme park called New Orleansland.
As a former beat reporter for The Times-Picayune in New Orleans, the author of this new novel, Alan Citron, learned to appreciate the uniqueness of his hometown from the inside out and wrote this book as a tribute to his beloved city. "New Orleans is a city where anything goes, where the laissez faire attitude is the only thing that outpaces the zest for life," said Citron. "I seriously doubt a city could ever become a theme park. But if it were possible, New Orleans would definitely be the place."
With realistic characters like Wilson "Tookie" Doucet, Cannonball Jones, Victor Vargas, Pete "the Snake" Snard, "New Orleansland" humorously bridges the cultural chasm between Hollywood and Louisiana. Readers are taken on a journey filled with fiction and mixed with bits of truth, deceit, crime and, in the end, an unlikely hero.
"First the name popped into my head: New Orleansland," said Citron. "Then a plotline began to form. The city was highly vulnerable in the wake of the storm. A Hollywood theme park company saw an opportunity to gain a foothold. From that point on the narrative took control. I literally couldn't get it out of my mind. The ideas became an outline and the outline became chapters and the chapters became a book."
New Orleansland is available today on most major e-book sites. Half of all net profits from the sale of this book will go to local relief organizations. To learn more and for an expanded synopsis of the book, visit neworleansland.org.
About Alan Citron:
Alan Citron was born in New Orleans and spent the early part of his career as a reporter at The Times-Picayune. He subsequently went to work for The Los Angeles Times, where he was assistant business editor in charge of entertainment. In that capacity, Citron covered the wave of Japanese investment in Hollywood, the founding of DreamWorks Studios and the upheavals in the talent agency business. During the first Internet wave, Citron joined Ticketmaster as the founding president of Ticketmaster Online. Citron went on to serve as founding president of MusicNet and founding general manager of TMZ. He currently works as general manager of The Wrap, which covers business, entertainment and media.
About "New Orleansland:"
"New Orleansland" is a truthful satirical novel written by New Orleanian turned Hollywood entertainment executive. The fictional e-book launched on Amazon in June 2015. The book is set one-year post-Katrina as Hollywood eyes an opportunity to take on a city in turmoil. Citron wrote this book as a tribute to the indomitable spirit of his hometown. To learn more, visit neworleansland.org.