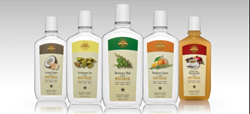 "I wanted to create a mouthwash that would inspire people to take a different approach to their oral care routine," Tina Yarandi
Orange County, CA (PRWEB) July 29, 2015
Nature's Artisan, a new holistic oral care company, has released a line of xylitol-based mouthwashes in a variety of gourmet flavors.
Nature's Artisan was founded by Tina Yarandi, who came up with the idea for the product line while enrolled in the Post-Baccalaureate program at the UCLA School of Dentistry. Tina was amazed when she learned about the incredible dental benefits of xylitol, but was disappointed by what she found in the lack of xylitol products available on the market. She then embarked on a mission to blend the scientifically proven benefits of xylitol with natural ingredients to create a product that would deliver a synergistic approach to oral care.
"I wanted to create a mouthwash that would inspire people to take a different approach to their oral care routine," Tina explains, "The gentle, yet effective, ingredients we use combined with flavors unlike anything available on the dental market blend together to create a truly unique mouthwash experience."
Xylitol is a natural sugar that is found organically in plants and fruits, and has a taste similar to table sugar. It cannot be broken down by oral bacteria like sugar can, yet it still elicits a salivary response which allows it to combine with the saliva's natural enzymes to form a protective coating for teeth. This xylitol protective coating resists changes in pH and reduces the detrimental effects of acid production created by oral bacteria which leads to cavities.
Nature's Artisan currently offers five gourmet flavors including Coconut Ginger, Green Tea Pomegranate, Cardamom Tea, Rosemary Mint, and Mandarin Thyme. All of the great-tasting varieties are made with a proprietary blend of aloe, essential oils, naturally-derived flavors, and xylitol, and are GMO-free, leaving your mouth feeling clean and refreshed without the sting of alcohol.
Each Nature's Artisan mouthwash is available for $14.95 for a 16 fl oz bottle and can be purchased directly through the Nature's Artisan website at http://www.naturesartisan.com/shop
For more information visit http://www.naturesartisan.com and contact Tina Yarandi at info(at)naturesartisan(dot)com or (949)395-9958.
Don't forget to "like" Nature's Artisan on Facebook at facebook.com/naturesartisanmouthwash and follow us on twitter and Instagram at: @naturesartisan.