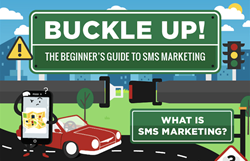 SMS marketing has become the small business owner's go to marketing method.
Jamestown, NY (PRWEB) July 15, 2015
Top SMS marketing provider, Slicktext.com recently released a helpful infographic detailing the basics of SMS marketing. This visual guide lists out several crucial components, including how to grow an SMS list, how to promote that list, and the definitions of standard SMS keywords.
SMS marketing is one of the most affordable and immediate mobile communication methods. Small business owners can fire out a quick text to all interested subscribers for little to no cost. This is a great way to increase brand loyalty and engagement. With one text message, business owners can strengthen customer relationships, increase sales, and reward loyal subscribers for their engagement. On top of this, SMS marketing plans cost as little as $29 a month.
Founder and CEO of Slicktext.com, Matt Baglia had a personal hand in creating this infographic. "We already have The Beginner's Guide to SMS Marketing, but we wanted to recreate it in infographic form. Not everyone has the time to comb through an entire guide, so this seemed like a helpful solution. At Slick Text, we always strive to provide all users with the information they need to succeed. Beyond anything else, that has and always will be our first priority."
SMS marketing is the new go to for small business owners nationwide. It provides the affordability and immediacy that every small business owner needs. Reach hundreds of qualified customers on a shoestring budget with this marketing method.
Find the infographic on the Slicktext.com blog.