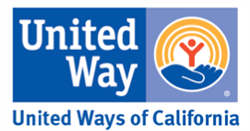 SACRAMENTO, California (PRWEB) July 14, 2015
WHO: Pete Manzo, President/CEO United Ways of California, Henry Gascon, Mgr. Program and Policy Development, United Ways of CA, Betsy Block, Principal, B3 Consults, Adam Parker, Consultant
WHAT: Teleconference highlighting the real cost of living in California through a new report, Struggling to Get By: The Real Cost Measure in California 2015. The report includes interactive neighborhood and county maps, an interactive dashboard featuring Real Cost Budgets and a public data set.
WHEN: 10:00 a.m. - 10:45 a.m. PST, Tuesday, July 14, 2015.
WHERE: Teleconference Number: 800.524.8850, passcode 1793055
REPORT: EMBARGOED until 10 a.m. PDT, Tuesday, July 2015 - http://www.unitedwaysca.org/realcost
CONTACT: Hector Barajas, (800) 916-1770 ext 7, (323) 314-3342 cell
###
United Ways, across the U.S. and increasingly around the world, focus on improving health, education and financial stability—the building blocks of a good life—for vulnerable low-income families and children. In California, local United Ways collectively raise and invest over $200 million and thousands of hours of volunteer efforts in these building blocks.
United Ways of California, a voluntary state network, improves health, education and financial stability for low-income children by enhancing and coordinating the programmatic and advocacy work of California United Ways. For more information, please visit http://www.unitedwaysca.org.