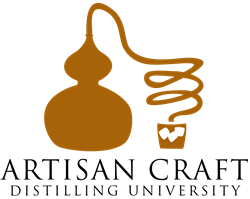 Our number one goal is to help students learn as much as possible.
Spokane, WA (PRWEB) July 15, 2015
With craft distilleries popping up all over the nation (311% industry growth in the U.S. over the last 5 years), Artisan Craft Distilling University (distilleryuniversity.com) is making the requisite education more attainable than ever. In the past, the only way to learn the complicated process of becoming a professional distiller was to enroll in one of the hands-on workshops scattered across the country. This proved to be both time-intensive and could cost the student thousands of dollars. Now that ACDU has entered the scene with their 100% online classes, students can get the same knowledge as a hands-on workshop for a fraction of the price and all without ever leaving their computer screen.
Founders Rockwell Rutter and Daniel Siegel have amassed a collection of video and audio footage designed to show students all aspects of starting a legal craft distillery. Much of the footage was captured at one of the hands-on workshops, so students can be assured that the content is being taught by actual professionals in the industry. Here's a short list of some of the highlights:

Operating a commercial still
Marketing methods for distilleries
Fermentation fundamentals
Federal, state and local licensing considerations
Labeling requirements
In-depth interviews with actual distillers
Currently the site has over 22 hours of educational content, with more coming soon. Students are able to sign up for the site in one of two ways: 1) a Lifetime Membership which provides them access to everything the site has to offer for a one-time fee; or 2) a less-expensive Monthly membership where students are better able to control their costs.
When asked why they decided to get into the craft distilling market, Rutter said, "Originally I wanted to open up my own distillery, but found that I didn't even know what questions to ask to get started. After looking around, I realized there weren't really any good sources of training and education so my business partner and I decided to build our own." Rutter's background in web development allowed him to design and build a learning platform that's accessible from any computer or mobile device. Siegel's experience in videography and video editing was used to actually record and polish the courses themselves.
ACDU has the honor of being the first and only 100% online resource for craft distilling education. "We expect a few competitors to pop up eventually," says Rutter, "but we've really put a lot of focus into capturing really high-quality content and making the learning process as simple as possible. When we shoot at a distillery, it's often very informal and conversational so viewers end up getting more of a personal learning experience with the instructor. Our number one goal is to help students learn as much as possible."
With online education industry on the rise, as well, ACDU seems uniquely poised to corner the market. According to elearningindustry.com, the self-paced e-learning market should see revenues of $49.9 billion in 2015.
According to ACDU, response from students has been extremely positive since their launch earlier this year. "Since we've immersed ourselves in the distilling culture for the last few years, we've gotten to know a lot of the big players out there," says Siegel. "That way, when we get questions from our students, we're often able to send them to the right person for answers."