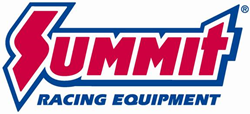 Tallmadge, OH (PRWEB) July 14, 2015
The K&N 57 Series Fuel Injection Performance Kit (FIPK) air intake kit for 2009-11 Dodge and Ram 5.7L trucks replaces the factory filter element and air box with a high-flow filter element, heat shield, and a larger air inlet tube to elimination airflow restriction.
K&N says the FIPK intake added 15.66 peak rear wheel horsepower and improved power throughout the engine's operating range. Perhaps best of all, the 57 Series FIPK Air Intake is smog-legal in all 50 states for 2009-11 Dodge/Ram trucks with a 5.7L Hemi.
Summit Racing carries over 200 K&N 57 Series FIPK air intakes for many other domestic and import trucks and SUVs as well as select passenger cars. Now everyone can have their horsepower cake and eat it too.
SEE K&N'S 57 SERIES FIPK AIR INTAKE FOR DODGE/RAM TRUCK
Summit Racing Equipment
http://www.SummitRacing.com
1-800-230-3030