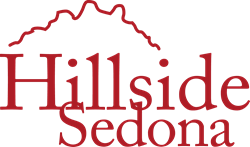 Sedona, AZ (PRWEB) July 21, 2015
Conveniently located off of State Route 179 in Sedona, Hillside Sedona Shopping Center is home to world famous art galleries, boutiques, restaurants and a salon. The picture-perfect venue is now available to book events in its beautiful courtyard and there is ample parking for special events, fundraisers, yoga, concerts and networking mixers.
Past events, such as the Umbrella Project, have had tremendous success and community for their support and beauty that surround the center. Umbrellas painted by students all over the country this past April were displayed at Hillside, raising money for a school in need of supplies in Costa Rica. Other popular events include yoga series, concerts from jazz to acoustic, animal shelter fundraisers and more.
Sedona is home to some of the most beautiful red rocks and clear skies in the state of Arizona, and a popular location for tourists, retreats, events and weekend getaways.
"We are looking for new event opportunities at Hillside Sedona, with the beautiful scenery surrounding the center, it's perfect for everything from charity events to business mixers," said Karen Reynolds Dilks, Property Manager and "A Step up" boutique owner at Hillside Sedona. For more information, contact Karen Reynolds at Hillside Sedona: 928.282.4500.
About Hillside Sedona:
In 1986, Shirley Caris developed Hillside Sedona, bringing to it the spirit of nature, artistic qualities and the essence of the town she now called home. An upscale retail shopping center, Hillside Sedona is home to fine art galleries, unique boutiques, a variety of restaurants, locally-owned shops and the event venue, The Bridge at Hillside. The popular Northern Arizona destination is filled with sites and attractions that are sources of inspiration to many. In a setting with a view of the Red Rocks that surround the property, Hillside Sedona also is a perfect destination location for photography. http://www.HillsideSedona.net
Media contact:
Christine Holtz
Phoenix Marketing Associates
602-282-0202