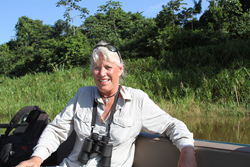 I always enjoy taking people to East Africa because you can't be disappointed! - Joan Embery
HELENA, Ala. (PRWEB) July 14, 2015
Wildlife enthusiasts can explore the famed savannahs of Tanzania under the guidance of celebrity wildlife expert Joan Embery as she hosts a new safari with International Expeditions on February 20, 2016. Embery's close association with a variety of wildlife conservation groups in Africa ensure International Expeditions' travelers gain unprecedented access to the scientists and workers at the forefront of Africa's elephant and rhino conservation efforts.
"I was impressed that International Expeditions supports local conservation efforts and strives to educate its passengers about all aspects of the region," said Embery of her previous experiences with IE in the Amazon and Galapagos Islands. "They are an excellent example of ecotourism at its best!"
As goodwill ambassador to the San Diego Zoo's Zoological Society of San Diego, Joan Embery has been one of the world's most high-profile wildlife conservation advocates for over three decades. A professional Fellow of the Association of Zoos and Aquariums, she founded her own non-profit foundation, which connects people to wildlife and conservation issues and the role each individual plays in insuring healthy environments. Embery is perhaps best known for her thousands of appearances with animals on talk shows such as The Tonight Show (both with Johnny Carson and Jay Leno), Good Morning America and Live With Regis & Kathy Lee.
Traveling in a small group of no more than 16, guests enjoy personal attention from local guides (one guide per six guests) as well as engaging field discussions with Embery on Tanzania's famed "Big Five," conservation and colorful birdlife. During the 13-day safari, guests survey four national parks — Arusha, Tarangire, Lake Manayara and Serengeti — along with the Ngorongoro Crater Conservation Area.
"I always enjoy taking people to East Africa because you can't be disappointed," said Embery of her travels to Africa. "There is always something to see – the sights, the sounds, the sunsets, the landscape, and just the expanse of it. It's mind-boggling to realize that that still exists."
Pricing for the February 20, 2016 Tanzania safari hosted by Joan Embery start at $8,898, and include flights between safari camps, all park and conservancy fees, all government taxes, some tips, and most meals.
For more information, call International Expeditions at 1-800-234-9620 or visit http://www.IEtravel.com.
About International Expeditions
Celebrating 35 years of nature travel, International Expeditions specializes in small-group and private journeys to Earth's most exhilarating destinations. A pioneer of environmentally responsible travel, IE is committed to preserving natural habitats and improving the welfare of the people and communities it visits. International Expeditions has been named to Travel + Leisure's list of "World's Best" tour operators & safari outfitters seven times and to National Geographic ADVENTURE magazine's list of "Best Adventure Travel Companies on Earth."