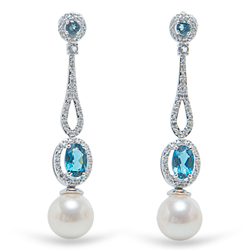 Montreal, Quebec (PRWEB) July 14, 2015
Elegant, adventurous and bursting with color, Gemma offers a selection of long-drop pearl earrings, pearl pendants and a pearl necklace, all fashioned in sterling silver.
The collection combines lustrous freshwater pearls with a variety of sparkling colourful gemstones including citrine, amethyst, blue topaz, garnet and white topaz. The inspiration for this collection stemmed from the lively and youthful impression that colored gemstones evoke.
In response to the high global demand for colourful stone jewelry, Nishi Pearls sought to design pieces that ultimately capture the essence of summer by incorporating all of its most salient characteristics like warmth, vibrancy and color. The splash of colour from the gemstones adds a modern dimension to a collection that stands out for its elegant components such as milgrain detailing. Gemma offers beautiful gift options for milestone events including summer weddings and graduations.
The translucency of the colored gemstones perfectly enhances the rich opacity of pearls, bringing out their youthful side while also maintaining their innate elegance. For this collection, each gemstone was selected for its unique significance and lore. Citrine is used in this collection to evoke sunlight, while the blue topaz reflects cool waters and the amethyst embodies purple summer skies at dawn.
Topaz was believed to give wearers strength and dispel magic spells and some believe that its name originates from the word topas in Sanskrit, which means "fire."
Citrine is a type of quartz designated as the birthstone for November with a fiery yellow color that can range from lime green to reddish orange.
While garnets are widely identified for their vivid red hue, they come in a variety of colors including greens, oranges and some blues. As the birthstone assigned to January babies, red garnets are one of the most abundant and available gems around the world.
Amethysts have once graced the crowns of royals and have long been associated with Baccus, the god of wine, due to its purplish red hue. Characteristics associated with this gem include sobriety, calmness and wit.
With exotic colored stones and elaborate detailing, Nishi Pearls' Gemma collection captures a unique elegance for the young at heart.
Nishi Pearls™ is a brand that specializes in designing and creating a wide range of genuine cultured pearl jewelry that creates the perfect marriage between classic and contemporary. With offices located in Asia, Canada and the U.S.A., Nishi Pearls has been making its mark at some of the most prominent international jewelry fairs including the Jewelers International Showcase, the Orlando Duty Free Show of the Americas and the Jewelers' Circular Keystone's (JCK) annual trade show in Las Vegas, to name a few.
Nishi Pearls' dedication to quality is reflected in its partnerships with leading professionals, including their latest co-branding endeavor with Swarovski as well as Air Canada's Inflight program. Their award-winning jewelry is inspired by the consumer of today and the fashion of tomorrow.
Visit them at: http://www.nishipearls.com/online/