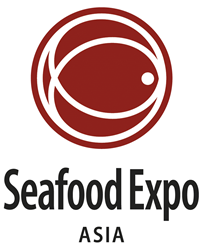 The growing reputation of Seafood Expo Asia as an important platform for conducting business is clearly resonating with the seafood industry.
Hong Kong (PRWEB) July 14, 2015
Seafood Exposition Asia will open its doors in 2 months and a growing number of exhibitors are confirming their intention to participate at the region's most prominent trade event for buyers and suppliers of high value fish and shellfish.
The sixth installment of the exposition, scheduled to take place at the Hong Kong Convention and Exhibition Centre from the 8-10 September, 2015 has already confirmed over 115 exhibitors from 29 countries including Argentina, Australia, Bahrain, Canada, China, Chile, France, Ireland, Japan, Korea, Mauritius, Netherlands, New Zealand, Norway, Spain, Turkey, United Kingdom, and United States.
"It is exciting to report that the exhibit space booked for this year's event is more than 770 square meters larger than it was at this time last year," says Seafood Expo Asia show director Ms. Terri Tsang. "This growth is an indication that companies recognize the strong opportunities that the Asian market has to offer."
In addition, the 2015 edition welcomes more than 55 new exhibiting companies with first time participants, including Lenger Seafoods Group and POSEIDON FOOD from the Netherlands, Trangs Group represented by their Vietnam office and several new exhibitors from France, Norway, Canada, Spain, Vietnam, USA, Netherlands, and Chile.
Commenting on Seafood Expo Asia, Ms. Tsang remarks that the findings of a survey conducted following the 2014 event revealed high exhibitor satisfaction with both the quality of trade visitors and level of orders with 91% of participants expressing that their objectives for exhibiting had been met.
Ms. Tsang says, "Our 2014 survey indicated that over 80% of exhibitors planned to return. The growing reputation of Seafood Expo Asia as an important platform for conducting business is clearly resonating with the seafood industry. Key benefits that exhibitors can enjoy include the opportunity to meet with senior industry buyers, raise the exposure of their brands and take advantage of peer networking and learning."
Ms. Tsang continues that the primary reason quoted by attendees who visit the event is to source new products. "With regards to purchasing authority, around 79% of visitors to Seafood Expo Asia are directly involved in or influence the purchasing decisions of their organisations.
"In fact, our visitor survey from 2014 also found that the other reasons people visit the exhibition are to find new suppliers, keep up-to-date with industry developments, network with other seafood professionals, as well as brainstorm business ideas."
With regards to visitor demographics, Seafood Expo Asia welcomes a mix of industries including foodservice, hotel, catering, importers, exporters, distributors, wholesalers, retailers and manufacturing and processing companies.
For 2015, different regions of the world are strongly represented at Seafood Expo Asia. The exhibit hall will feature a record number of national and regional pavilions with at least 21 pavilions having so far confirmed their participation, such as Argentina, Australia, Canada, Chile, China, France, India, Indonesia, Korea, New Zealand, Taiwan, Thailand, Turkey, United Kingdom and United States.
"Always a popular attraction, these respective pavilions are set to showcase the finest, premium fish and seafood from different regions of the world and in doing so provide increased sourcing options for visitors," says Ms. Tsang while noting that the international reach and quality of attendees offers lucrative opportunities for participants to network and establish new business connections.
Organised by Diversified Communications, Seafood Expo Asia is co-located with Restaurant & Bar Hong Kong, the leading fine dining and bar exhibition in the Asia-Pacific region.
For more information about registration or Seafood Expo Asia, visit http://www.seafoodexpo.com/asia.
About Seafood Expo Asia
Formerly called the Asian Seafood Exposition, Seafood Expo Asia is a trade event where buyers and suppliers of seafood from around the world come together to network and conduct business in the lucrative Hong Kong and Asia-Pacific markets. The event's sixth edition takes place from 8-10 September 2015 at the Hong Kong Convention & Exhibition Centre in Wanchai, Hong Kong. SeafoodSource.com is the exposition's official media covering industry news year-round. The exposition is produced by Diversified Communications and is co-located with Restaurant & Bar Hong Kong. http://www.seafoodexpo.com/asia.
About Diversified Communications
Diversified Communications is a leading international media company providing market access, education and information through global, national and regional face-to-face events, digital products, publications and television stations. Diversified serves a number of industries including: seafood, food service, natural and organic, healthcare, commercial marine and business management. The company's global seafood portfolio of expositions and media includes Seafood Expo North America/Seafood Processing North America, Seafood Expo Global/Seafood Processing Global, Seafood Expo Asia and SeafoodSource.com. Diversified Communications, in partnership with SeaWeb, also produces SeaWeb Seafood Summit, the world's premier seafood conference on sustainability. Based in Portland, Maine, USA, Diversified has divisions in the Eastern United States, Australia, Canada, Hong Kong, India, Thailand and the United Kingdom. For more information, visit: http://www.divcom.com.
# # #
Editor's Notes
Please note that this press release is accompanied by photographs. To request a copy of these images, please contact Janet Middlemiss on (852) 9195 7829 or at janet(at)jemworldwide(dot)com.
Media Contacts
For media interviews or further information on Seafood Expo Asia, please contact:
Hong Kong
Janet Middlemiss
JEM Worldwide Limited
Tel: +852 2857 3832
Mobile: +852 9195 7829
Email: janet(at)jemworldwide(dot)com
USA
Jonathan Bass
Diversified Communications
Tel: +1 207 842 5563
Email: jbass(at)divcom(dot)com