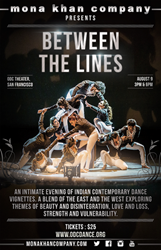 Sunnyvale, CA (PRWEB) July 13, 2015
Dance is a powerful medium for raising awareness on social issues and the people affected by them. Mona Khan Company—the leading Bollywood dance company in the Bay Area—will explore socially relevant topics in Between the Lines, a collection of Indian contemporary dance vignettes, staged in an intimate setting at the ODC theater in San Francisco. Crowd sourcing for this Kickstarter project ends Wednesday, July 22, at 10 PM PDT.
Funds from this project will support the larger artist community involved in the show, including live musicians, choreographers, theatre technicians, and costume designers. Tickets for the show on Sunday, August 9 are now on sale here.
The show explores themes of beauty and disintegration, love and loss, strength and vulnerability. The vignettes are socially relevant, and based on topics like domestic violence, created in collaboration with the non-profit organization, Maitri; another piece is a deep reflection about a victim of sexual violence.
Unlike the company's bi-annual commercial production, America's Got Bollywood, Between The Lines aims to engage with and comment on social issues through the power of movement and music.
Last year, the company created a show called Soch (meaning to think or to realize), which was met with an overwhelmingly positive response. The audience praised the intimate nature of the show and the palpable and raw emotions of the dancers.
"I felt their [dancers] energy transfer directly into my being. It made an already powerful performance simply breathtaking," said an audience member and long time volunteer at the Mona Khan Company shows.
Since the Soch show sold out both weekends, they plan to expand the show this year through Between the Lines. Still an intimate setting but with new works, a larger cast, live musicians and new collaborators, it will be a night of meaningful conversation through dance. Please support all the artists involved in this new endeavor— Between the Lines.
About Mona Khan Company
Headquartered in Sunnyvale, CA, Mona Khan Company offers Bollywood dance & group exercise classes in various locations in and around the San Francisco Bay Area. The company is a leader in providing the best of Bollywood style entertainment through its classes and through its elite team of professional dancers who perform at various events throughout the Bay Area. For more information, please contact info(at)monakhancompany(dot)com or visit http://www.monakhancompany.com