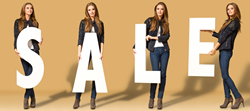 We are joining in the spirit of Amazon Prime Day with an exceptional sale of 50% off all products, today only.
St. Petersburg, FL (PRWEB) July 15, 2015
Sublime Beauty® and Sublime Beauty NATURALS® products are all sold on Amazon, so for Amazon Prime Day, the company is marking everything down 50%.
"We are joining in the spirit of the event with big sales, and celebrating Prime membership with free 2 day shipping," says Kathy Heshelow, founder of Sublime Beauty®.
Use Coupon Code PRIMESB5 at checkout.
Sublime Beauty® is a French-inspired anti-aging skincare company focusing on skin health. The line includes serums, moisturizers, cleansers, masks and a niche in Skin Brushes. Sublime Beauty products can be found here on Amazon.
The signature Face Whisperer® Day Cream relaxes wrinkles with the natural botox, boosts collagen with peptides and hydrates with botanicals.
Sublime Beauty NATURALS, newly opened this summer, focuses on wellness and beauty. The company mottos is "Make Healthy Choices, Respect Your Body, Love Nature."
Products include USDA Certified Organic Sesame Oil (for Oil Pulling), Essential Oil blends, USDA Certified Organic Baobob Oil especially good for eczema, scars and stretch marks. A power serum, moisturizers, natural soaps and a foot balm will be available within the month.
Today only, use Amazon Coupon Code PRIMESB5 at checkout for 50% off purchases.