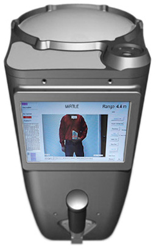 The MiRTLE 10 is the world's first handheld screening device that allows a safe distance between enforcement and possible suspect.
Salem, NH (PRWEB) July 16, 2015
Radio Physics, creator of the MiRTLE® standoff threat detection system, today announced the release of the MiRTLE 10, a handheld version of their longer range MiRTLE 30. MiRTLE's ground breaking threat detection capability can now be used in fixed, portable and handheld formats to scan for threats in areas that were previously unreachable.
MiRTLE 10 is the world's only handheld system capable of detecting concealed threat items such as suicide vests, martyrdom belts, handguns, knives, and 3D printed weapons at true stand-off distances. MiRTLE enables law enforcement, public safety and other security professionals to screen people unobtrusively using a safe, non-invasive scan of individuals without invading their personal privacy by revealing anatomical details.
MiRTLE 10 is a handheld screening device that uses harmless, millimeter wave radar to detect threat materials or objects concealed under clothing up to 10 meters from the operator. By illuminating the target subject with low power, Ultra Wide Band (UWB) millimeter wave energy and analyzing the reflected signature, the specific nature of the concealed object or material is determined. Real threat objects such as handguns or concealed explosive devices present different radar signatures than benign objects like mobile phone hand-sets or keys. This enables MiRTLE 10 to differentiate between threat and non-threat items and alert the operator only to real threats, eliminating confusion from false alarms.
MiRTLE 10 can be used either indoors or outdoors and is manually aimed by the operator toward a single target subject. This facilitates non-contact screening at stand-off ranges. MiRTLE does not require the subject of interest to be static, compliant to instructions, or confined to a secured or controlled environment. Detected threats are indicated by a color coded curser display, thereby eliminating any operator responsibility to make "a threat/no threat" decision. Screening/Detection is done immediately, in real time, displaying no images to compromise the privacy of the target subject.
"The rigorous testing of this product has involved the UK Home Office and feedback from multiple evaluation from the US Army ART TSOA program," commented Carl Cagliarini, Vice President of Global Business for Radio Physics. "The MiRTLE 10 is the world's first handheld screening device that allows a safe distance between enforcement and possible suspect. MiRTLE 10 is the cutting edge of reliable threat detection technology. Validation of our product capability through UK home office government branches and military users in the USA has been critical to ensure that we offer a product that will make a real difference for our users."
About Radio Physics
Radio Physics was founded to develop innovative radio technology systems in security, imaging, and critical communications. Based in the UK and USA, Radio Physics develops technology in collaboration with Counter and Anti-Terror Agencies, Police, and Humanitarian Organizations. Radio Physics is delivering the next generation of intelligent gun and bomb detection systems.