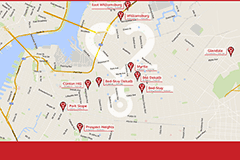 "I like to think of myself as the Family Doctor of the neighborhood." – Clark Lopez, MD
Brooklyn, NY (PRWEB) July 15, 2015
Primary care is still at the heart of outpatient medical care. Prominis doctors are neighborhood doctors joining together under one name.
The Brooklyn locations vary in demographics and personality—and so do the staff. Some of the primary care doctors in the group have been seeing patients for over 30 years. Such is the case for Dr. Lopez in Prospect Heights:
"It has been my pleasure to serve the people of the Brooklyn community since 1975. I have been around long enough to witness the growth of a rich diversity of folks that has made my professional life all that more enjoyable. I like to think of myself as the Family Doctor of the neighborhood." – Clark Lopez, MD
Patients don't have to lose their local neighborhood doctor's office to a larger, corporate-office institution. When their doctor joins the Prominis group, the changes are mostly behind-the-scenes, with the addition of electronic medical records and streamlined service coordination.
Prominis Medical Services collaborates with local community groups in Bedford-Stuyvesant, Williamsburg, and beyond. Some of the primary care doctors even get out of the clinics and visit patients in their homes. This is part of the house call program, created for those patients who are no longer well enough to come see the doctor on their own. Even at home, patients receive the care of their long-standing neighborhood doctors.
Prominis is a group of Internists and Family Practice doctors, along with Specialists, serving Brooklyn, NY. We currently have 10 clinics in Brooklyn, with house call services extending to other NYC boroughs. Prominis works with local hospitals, community housing centers, lab and imaging centers, and city-funded organizations. Many diagnostic tests can be done on-site, including Lung Function Testing, Cardiac Testing, Osteoporosis Screenings, Circulation Testing, and even Sleep Studies.
Many Prominis providers hold privileges at local hospitals, including Brooklyn Hospital and New York Methodist. We also have specialists that come on-site who offer services in Cardiology, Gynecology, Urology, Nephrology and more.
Current Locations:
37 5th Avenue, Brooklyn NY 11217 (718) 802-1110
60 Plaza St East, Brooklyn NY 11238 (718) 783-3919
170 Frost St, Brooklyn, NY 11211 (718) 388-6629
297 Marcus Garvey Blvd, Brooklyn, NY 11221 (718) 453-9377
332 Dekalb Avenue, Brooklyn, NY 11205 (718) 852-5252
443 Dekalb Avenue, Brooklyn, NY 11206 (718) 622-0099
589 Metropolitan Avenue, Brooklyn NY 11211 (718) 963-2383
866 Dekalb Avenue, Brooklyn NY 11221 (718) 453-4311
934 Myrtle Avenue, Brooklyn NY 11206 (718) 919-7053
6451 Central Avenue, Glendale, NY 11385 (718) 821-4424