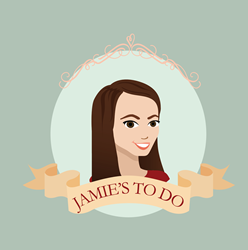 Jamie's To Do as a whole encompasses the idea that creating and updating your to do list, should be the easiest part!
Santa Monica, CA (PRWEB) July 14, 2015
LanziVision, developer of Jamie's To Do application, is excited to announce the app is now compatible with Android devices. Applauded by users for its "simple, no frills layout", Jamie's To Do app offers both women and men a refreshing and easy-to-use platform to organize their life. The app is available for free download in the Google Play Store.
When game designer and LanziVision Founder John Mikelich's wife Jamie couldn't find a list-making tool she liked, he created one for her. The result: Jamie's To Do. Oprah and Rachel Ray's Peter Walsh ask, "Could there be a more modern take of the classic love letter?" Since its official launch in May of 2014, Oprah magazine featured Jamie's To Do as a helpful way to organize your life, and Fast Company described the app as a "Tech Tool Productivity Experts Can't Live Without."
"We originally developed Jamie's To Do app exclusively for iOS," says John Mikelich. "Since we launched, however, we have received countless emails asking us to adapt Jamie's To Do to Android. We are excited to announce that we have finally done just that! Jamie's To Do as a whole encompasses the idea that creating and updating your to do list, should be the easiest part!"
The Android version occupies 25MB of storage and operates identically to Jamie's To Do App iOS. Users on both systems are able to manage his or her to do lists with ease, while extra features and more powerful tools remain available for users who want them. Jamie's To Do also incorporates an 'E-Mail Jamie' function where users are encouraged to communicate suggestions and feedback. On average, LanziVision issues one technical update per month. The company plans to continue revamping the app as requested and needed.
For more information regarding Jamie's To Do or to schedule an interview with John Mikelich, contact Lexie Olson of Melrose PR at Lexie(at)melrosepr(dot)com or 320-260-7901.
About John Mikelich (Jamie's To Do App Founder):
Ever since he was a young boy, John Mikelich has always dreamed of creating video games and apps. The idea of designing an interactive world that others could enjoy seemed magical to him. After graduating from UC Santa Cruz with degrees in Physics and Computer Science, Mikelich realized his dream by founding gaming and application company, LanziVision, in 2008.
Mikelich loves all that he creates, thus the motto of LanziVision, "We make games we want to play." To date, John has created 10 apps, with Jamie's To Do his most recent venture. Mikelich made this app for his wife Jamie as a geeky romantic gesture when she couldn't find any to-do list apps she liked. A straight forward, no frills to-do list designed to keep it simple. Jamie's To Do has been featured in Oprah Magazine and the Fast Company. Mikelich promises that the future of LanziVision's games and apps looks bright as it continues to grow.