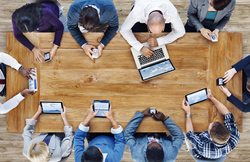 We are here to equip speakers with the proper tools to share presentations more effectively, by taking audience interaction and engagement to a whole new level," commented Fathi Hakam, CEO & President, Lintelus
Mission Viejo, CA (PRWEB) July 14, 2015
Lintelus, a presentation solution provider, will serve as the Bronze Sponsor at the annual National Speaker Association "Influence" Conference, to be held July 18-21 at the Marriott Wardman Park in Washington DC. Lintelus will host booth #6 and also lead a Lunch-N-Learn session on Sunday July 19 at 1pm.
NSA's annual 4-day conference includes hands-on workshops and a variety of educational sessions. Lintelus will be showcasing their digital file sharing technology, which allows presenters and speakers to share their presentation to attendees, on any device. Lintelus is designed to increase audience interaction and engagement through a simple to use browser-based file sharing solution. A speaker simply uploads his presentation and within seconds the attendees can access the file and follow along in real time, putting an end to passive presentations. This real-time solution allows attendees to interact with the content and take notes directly on each slide, without the need to download an app.
"We look forward to participating at NSA. It's a great event attracting the top thought leaders, authors, educators and motivational speakers," commented Fathi Hakam, President & CEO of Lintelus Inc. "We are here to equip speakers with the proper tools to share presentations more effectively, by taking audience interaction and engagement to a whole new level."
For more information on how to schedule a meeting with our team at the National Speaker Association conference or to see a demo, contact us at info(at)lintelus(dot)com or visit our website at http://www.lintelus.com.
About Lintelus Inc.
Lintelus is changing the way live meetings and presentations are experienced with interactive features including slide sharing, digital note taking, live polling and social media. All features are designed to energize live file sharing presentations, engage participants and personalize the meeting or event in a collaborative multi-screen environment. For more information or for a live demo, please contact us at info(at)lintelus(dot)com.
About National Speaker Association
The National Speakers Association (NSA) is the premier organization for professional speakers. Since 1973, NSA has provided the most comprehensive resources and education designed to advance the skills, integrity and value of its members and the speaking profession. Members include experts who reach audiences as speakers, thought leaders, authors, consultants, coaches, trainers, educators, humorists, and motivators.
For media inquiries, contact:
Dina Scaglione, Director of Marketing
949.910.9401