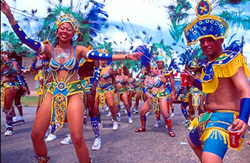 It's a winning combination of the exotic and the familiar, with all the benefits of an overseas holiday without the negatives
San Ignacio, Belize (PRWEB) July 17, 2015
Travellers should begin booking accommodation now if they don't want to miss out on Belize's exciting, colourful, month long September Independence celebrations, according to The Lodge at Chaa Creek.
Roberto Harrison, Chaa Creek's marketing administrator, said that factors such as Belize's close ties to the United States, the many similarities the two countries share, and the festive, colourful atmosphere of Belize's September celebrations all contribute to the growing popularity of the September celebrations and make early bookings essential.
He added that September is also the perfect month for a destination wedding or honeymoon in the newest nation in the Americas.
"Image the enthusiasm of the Fourth of July celebrations in the US a few decades after 1776, when independence was still fresh in everyone's minds. That's what it's like in Belize during September," Mr Harrison said, "there's quite a bit of excitement in the air."
Mr Harrison pointed out that Belize and the United States, having both won their independence from England, share many similarities, including having English as a first language, a multicultural populace that places a high value on democracy, tolerance, freedom of speech and other rights, and a robust pride in their country.
"I really can't think of two nations that have more in common than Belize and the US. When you consider how many Belizeans live in the States, combined with the large number of Americans visiting and residing in Belize, along with the growing ease of travel between the two countries, it's easy to see why we seem so familiar to each other," he said.
Belize's September celebrations officially begin September 10th with St George's Caye Day, a national bank holiday that commemorates the 1798 Battle of St George's Caye, a defining chapter in Belizean history when a small band of settlers and slaves repelled a much larger and better equipped Spanish military force during a fierce battle that continues to captivate historians.
The victory is considered to be one of the first steps on Belize's long road to statehood, which finally culminated on September 21, 1981 when the country secured its independence from Great Britain. September 21 is exuberantly celebrated each year and, combined with the September 10 St George Caye celebrations, results in a month long period of revelry that reverberates throughout the country.
"It's a great time to be in Belize," Mr Harrison said, "there's a festive atmosphere and many things to see and do, with lovely weather hovering around the 81° (27°C) mark and, since it's well before high tourism season, everyone's more relaxed. It's an opportunity to get a taste of the real Belize."
It's also a great time for couples looking to become married or celebrate a honeymoon, as Chaa Creek also offers a special all-inclusive Belize destination wedding vacation package throughout September, Mr Harrison explained.
"Here at Chaa Creek, September is also Weddings and Honeymoon Month, when we offer a very special all-inclusive Belize vacation package that makes a complete destination wedding easy and very affordable," he said.
"All in all, September is a happy, a festive time to be in Belize, and the beauty of Chaa Creek is that we're close to the celebrations, but still remote enough that guests have the freedom to participate in the festivities or just enjoy the peace and tranquilly that comes with being located in a 365 acre private rainforest nature reserve.
"We pride ourselves on offering an intimate experience and, with our large, professional staff, guests enjoy close yet unobtrusive attention. This makes it the perfect way to experience Belize's most exciting month. And with the growing number of flights to and from Belize from most major international hubs, getting to Belize is becoming easier all the time." he added.
Mr Harrison said that easy travel, the sense of familiarity, a currency pegged at two-to-one to the US dollar and other factors have helped make Belize a destination of choice for North Americans.
"It's a winning combination of the exotic and the familiar, with all the benefits of an overseas holiday without the negatives.
"And throughout September travellers have an opportunity to experience the real Belize while joining Belizeans in celebrating our most iconic holidays," Mr Harrison said.
Mr Harrison encouraged travellers to visit Chaa Creek's website or to contact the Belizean eco-resort or their travel agents to learn more about Belize's September celebrations and the benefits of a Belizean destination wedding.
"September is one of my favourite months in Belize, and we look forward to sharing the experience with our guests," Mr Harrison said.
The Lodge at Chaa Creek is a multi award winning eco resort set within a 365-acre private nature reserve along the banks of the Macal River in Belize.
ENDS