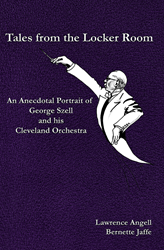 An engrossing, pointillist portrait of the emotional stress and artistic rewards of high-stakes music-making. -- Kirkus Reviews
Cleveland, Ohio (PRWEB) July 20, 2015
One of the greatest conductors of the 20th century, George Szell, led the Cleveland Orchestra from 1946 until his death in 1970. A meticulous perfectionist, Szell was known to be an autocratic taskmaster who wielded total artistic control. Under his leadership, he transformed the orchestra into a world-class ensemble.
For 15 of his 40-year tenure at the Cleveland Orchestra, Double Bassist Lawrence Angell worked under George Szell - an experience that left him with a story or two about this musical genius and colorful figure. When he met Bernette Jaffe in 1987, she encouraged him to record some of these stories and the two of them set out to track down other members of the Cleveland Orchestra who served under Szell and to record their memories, as well.
"Tales From the Locker Room" gives a rare, honest, humorous and at times brutal look at this musical genius through first hand interviews, stories, and anecdotes by over 50 of these musicians.
"An engrossing, pointillist portrait of the emotional stress and artistic rewards of high-stakes music-making." — Kirkus Reviews
"Tales from The Locker Room: An Anecdotal Portrait of George Szell and his Cleveland Orchestra" (ISBN 978-1626130463) is available in print via Ingram, Amazon, & Barnes & Noble and as an eBook for Kindle, Nook, and Apple.
About the Authors:
Lawrence Angell retired as Principal Double Bass in 1995 after 40 years working for the Cleveland Orchestra – fifteen of those under George Szell. He was the head of the bass departments of the Cleveland Institute of Music and the Oberlin Conservatory for many years and is married to the outstanding pianist, Anita Pontremoli.
Bernette Jaffe has her PhD in education and spent her working career as head of the Ratner Schools.
ATBOSH Media Ltd (http://www.ATBOSH.com) is a full-service Cleveland-based publisher that publishes emerging and mid-career authors in almost any genre or subject in a wide variety of media, including hardcover, paperback, magazine, comic-book, CD, DVD, eBook, board games, card games, software and apps.