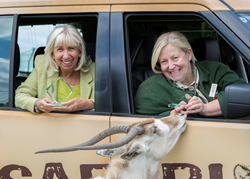 We are absolutely thrilled to be the recipients of this highly coveted Award once more. It is the third time that we have been voted the Best Animal Attraction
Bewdley, Worcestershire (PRWEB UK) 15 July 2015
West Midland Safari Park has scooped two top industry awards within a week.
The first was the prestigious "Best Animal Attraction" Award at the Group Travel Awards ceremony at the London Park Lane Hilton, on Friday 5th June 2015. The annual event, which is organised by Group Travel Organiser magazine, recognises all the very best suppliers to the group travel industry from Hotels and Resorts to Airlines and Cruise Lines. Readers of the publication are asked to vote for which they feel is the very best in their category. West Midland Safari Park was not only marked on the overall day experience on offer for groups, but the entire booking process taking in the information provided prior to the visit and how the booking was handled by staff.
Sue Day, Guest Relations Officer, said, "We are absolutely thrilled to be the recipients of this highly coveted Award once more. It is the third time that we have been voted the Best Animal Attraction and it is such an honour. We always endeavour to offer Group Organisers individual and personal attention, as we understand that each group has different needs and interests. We have been in the business for over 40 years and have always appreciated the great level of group business that comes our way. We always aim to provide the very best possible experience and to be voted for specifically by industry professionals is praise indeed."
The second award followed on Thursday, 11th June 2015 at the annual Herefordshire & Worcestershire Chamber of Commerce Awards held on home turf at Tree Tops Pavilion in the Park grounds. It was the chance of the Park's Green Team to celebrate this time, as they received the "Sustainability Award" for their continuous commitment and positive approach to 'being green'.
Angela Potter, Head of Wildlife Operations, said, "We are absolutely delighted to have been selected to win this award. It is a huge achievement and pays tribute to the incredible efforts of our Green Team over the past few years and the ongoing commitment of West Midland Safari Park Directors. A very special mention goes to Katie McDonald, our Research & Conservation Officer: the very pillar of sustainable and conservation effort at West Midland Safari Park."
The Park's Green Team was established during 2007 and they immediately began looking at ways to become more environmentally friendly and in particular ways to manage waste. In 2010 West Midland Safari Park received a silver award in the Green Tourism Business Scheme for their efforts in sustainability and good working practices. There have been major steps forward since then, which includes installing a Rocket composter used for food waste; solar panels installed at the Indian Rhino House, with around 50% of all general waste now being recycled – which was less than 10% when the Green Team was first formed. Their very latest and most significant scheme to date is a project costing £150,000 to replace an out dated fossil fuel heating system located at the Giraffe House, with a biomass boiler. http://www.wmsp.co.uk