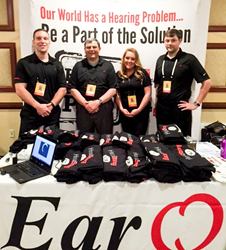 We are proud to once again support the National Basketball Retired Players Association in its ongoing efforts to provide its members with high-quality services to help improve the quality of their lives. --Clifford Carey, Communications Director for EarQ
Syracuse, NY (PRWEB) July 15, 2015
For the third consecutive year, EarQ joined the National Basketball Retired Players Association (NBRPA) at its annual Legends World Sports Conference to help enrich the former players' lives by improving their hearing health.
On July 13-14 in Las Vegas, NV, representatives from Northern Alabama Audiology joined other members of the EarQ team to provide hearing health screenings to NBRPA members and their families.
As a member discount program provider for the NBRPA, EarQ is committed to furthering hearing health awareness at high-profile events such as this in order to ultimately educate more of the general public about hearing loss and today's advanced solutions.
"We are proud to once again support the National Basketball Retired Players Association in its ongoing efforts to provide its members with high-quality services to help improve the quality of their lives," said Clifford Carey, Communications Director of EarQ. "By continuing to offer NBRPA members and their families greater access to expert hearing healthcare services and life-changing hearing technology, we can help inspire the 30 million Americans with untreated hearing loss to take action."
About EarQ:
A prestigious nationwide network of independent hearing healthcare providers, EarQ utilizes innovative business and marketing practices as well as national public awareness efforts to advocate for excellence in the industry and in patient care. Through its 1,400 hearing healthcare provider locations nationwide, EarQ helps provide greater access to quality hearing healthcare services and products.
About the National Basketball Retired Players Association:
The National Basketball Retired Players Association (NBRPA) is comprised of former professional basketball players from the NBA, ABA and Harlem Globetrotters. It is a 501(c) 3 organization with a mission to develop, implement and advocate a wide array of programs to benefit its members, supporters and the community. The NBRPA was founded in 1992 by basketball legends Dave DeBusschere, Dave Bing, Archie Clark, Dave Cowens and Oscar Robertson. The NBRPA works in direct partnerships with the NBA and the National Basketball Players Association. Arnie D. Fielkow is the CEO, and the NBRPA Board of Directors includes President & Chairman of the Board Robert A. (Bob) Elliott, Vice President Otis Birdsong, Treasurer Marvin Roberts, Secretary Steve Hayes, Past President Dr. George W. Tinsley Sr., Thurl Bailey, Harvey Catchings, James Donaldson, Johnny Newman, LaRue Martin and Danny Schayes.