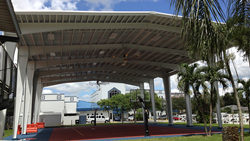 "The Seminole Tribe came to Allied looking for a quick solution for this area, which received limited use due to exposure to the elements. We were able to come up with design and construction services" Eric Stephan, VP of Construction
Fort Lauderdale, FL (PRWEB) July 15, 2015
In January 2013, the Seminole Tribe of Florida and Stiles Construction announced a joint venture partnership to create Seminole/Stiles, LLC. Since then, the venture has provided both Seminole Tribe of Florida and Stiles access to a range of real estate construction opportunities within the Native American tribal network.
Among others, the partnership has conducted the Brighton Recreational and Community Center in Okeechobee, FL , the Chupco Landing Hope Center in Ft. Pierce, FL, and the Howard Tiger Recreational Center in Hollywood, Florida.
The Howard Tiger Recreation Center is a property of the Seminole Tribe of Florida. The 39,000-sq-ft, two-story recreation facility began construction in December of 2013 and opened to the public in October 2014.
On the second floor, the Boys and Girls Club have designated space in the form of two multipurpose rooms, music room, classrooms, computer room, and studio.
The facility ground floor contains a catering kitchen & buffet service area, a designated area for the Culture Department that features a teaching kitchen, classrooms, and a multipurpose room, and an airnasium, which include a full-size basketball court.
To develop the later, the Seminole/Stiles, LLC hired Allied Steel Buildings to furnish and install the foundation and open air building for the recreation center.
Eric Stephan, Vice President of Construction Services at Allied Steel Buildings managed the project. "Seminole/Stiles, LLC came to Allied Steel Buildings looking for an efficient solution for this area, which was receiving limited use due to exposure to the elements. At Allied, we were able to develop the design and offered construction services for both the foundations and the building that fit the property limitations and their budget," said Eric.
The airnasium is a 70'x102'x28' steel structure can accommodate several outdoor sporting activities throughout the seasons: basketball, street hockey, kickball and volleyball.
For any school located in a sunny climate, like the southern states in the United States, the Caribbean or Latin America, an airnasium is an essential feature specially during the following months. It allows teachers and children to exercise and play outside and at the same time, be protected from the sun and rain throughout the year.
Currently in most educational centers, the outdoors are a big part of a physical education program, so it is necessary to count on the adequate facilities. Besides from the physical activities, an airnasium can serve as an outdoors multipurpose room, for student body meetings, assemblies or school events.
About Allied Steel Buildings
Allied Steel Buildings, is a recognized leading supplier of high-quality pre-engineered steel buildings and metal building systems. In its more than ten years of experience, the company has developed almost 4,000 different steel projects all over the world, delivering building solutions for diverse industries, from community to commercial. One customer and one building at a time.