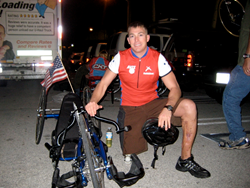 St. Augustine, Florida (PRWEB) July 16, 2015
Retired Staff Sergeant Luke Murphy, a wounded Army serviceman, will deliver the keynote address at the University of St. Augustine for Health Sciences 2015 Alumni Event Saturday, July 18, on the St. Augustine campus.
Murphy is the author of Blasted by Adversity: The Making of a Wounded Warrior (Inkshares, 2015), a memoir that includes his two tours in Iraq. Shortly before completing his second tour, in 2005, he was catastrophically wounded by an IED, which resulted in the loss of his right leg above the knee, and severed his left leg. Since then, he has undergone 32 surgeries and extensive physical therapy. Murphy's speech will cover his long road to recovery and the integral role that physical and occupational therapy played in his recuperation.
Murphy's message is one of inspiration; he's continued to live a full life since recovering from his injuries. He has been awarded several commendations, including the Purple Heart. He serves on the National Campaign Team for the Wounded Warrior Project, traveling around the country to share his story and raise awareness for injured servicemen and women. He completed his bachelor's degree at Florida State University and has competed in marathons and hand cycling events in America and Europe. Today, Murphy is co-owner of Southern Land Realty and gives motivational speeches about overcoming adversity.
About Us
The University of St. Augustine for Health Sciences (USA) is a graduate institution that emphasizes health science education through innovative quality classroom and distance education. Founded in 1979, USA has locations in San Marcos, California; St. Augustine, Florida; and Austin, Texas. USA offers degree programs in physical therapy, occupational therapy, athletic training, education and health science, as well as residency, fellowship and continuing education programs. For more information, visit http://www.usa.edu. USA is a member of Laureate International Universities, a network of more than 80 institutions in 29 countries and one of the most significant global higher education providers for health sciences. For more information, visit http://www.laureate.net.