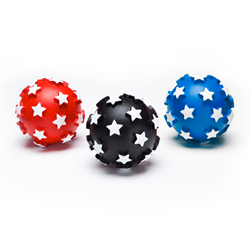 Our toys will keep your cat or dog happy all summer long.
New York, NY (PRWEB) July 15, 2015
Whether playing fetch or wading in the waves with a furry BFF this summer, a toy from LazyBonezz makes enjoying the great outdoors with a cat or dog so much more fun. LazyBonezz offers squeaky toy balls with a patriotic flair fit for backyard BBQs, as well as durable leather toys.
The Star Ball Pack from LazyBonezz will keep four-legged friends happy! Packaged in a set of three, these colorful balls are perfect for fetch. The 3D stars all around the balls give added interest, while the durable construction stands up to chewing, tugging and throwing. Set in red, black and blue with raised white stars; these classic pet toys bring a bit of Americana to any pet-friendly outing.
LazyBonezz line of leather pet toys includes The Large Leather Bone and The Leather Ring. Made of buttery-soft leather with leopard print designs, these luxe toys are strong enough for tug-of-war, yet easy on pet's teeth.
And when playtime is over, don't forget a place to store all Fido's stuff. LazyBonezz also offers a stylish selection of storage bins and totes. The Vinyl Everything Tote and The Vinyl Toy Bin are both waterproof and have handles on both sides so you can bring toys and treats to the beach or pool with ease. Perfect on the go or in the house, these sleek storage options are must-have for any spoiled cat or dog.
Lorraine Gold, President of LazyBonezz, hopes all pet owners are getting outside having some fun with their pets this season. She says, "Our toys will keep your cat or dog happy all summer long. Especially designed to entertain and withstand constant tugging or chewing, LazyBonezz pet toys are extremely durable, while still incredibly fashion-forward. We try to keep pet owners style in mind, making sure they're never embarrassed to bring along their BFFs favorite toy."
All LazyBonezz pet toys are available exclusively online at LazyBonezz.com.