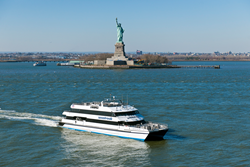 "Seastreak is an innovator in introducing new ferry services from New York City to destinations such as Sandy Hook Beach and Martha's Vineyard," stated Jim Barker, President of Seastreak. "We are pleased to now offer service between Manhattan, New Jersey
Atlantic Highlands, NJ (PRWEB) July 16, 2015
Seastreak now offers convenient and luxurious ferry service linking New York City and New Jersey with Nantucket.
"Seastreak is an innovator in introducing new ferry services from New York City to destinations such as Sandy Hook Beach and Martha's Vineyard," stated Jim Barker, President of Seastreak. "We are pleased to now offer service between Manhattan, New Jersey and Nantucket. We are confident customers will enjoy traveling in comfort and style through the beautiful New York Harbor and Long Island Sound on our luxurious vessels equipped with high-end amenities like high-backed seating, a full bar and Wi-Fi service."
With departures from Manhattan at East 35th St., and from Highlands, NJ, travelers will enjoy a relaxing ferry ride to Nantucket aboard our Seastreak ferries with amenities like: plush seating with spacious legroom, climate controlled cabins and an open-air top deck, 360-degree panoramic windows, private his/hers bathrooms, free high speed wifi, and a full-service cash bar with cocktails, beer, wine, sodas, tea, coffee, and snacks.
Round-trip fares start at $260, and the service is geared towards weekend travel with departures from NYC on Friday, and departures from Nantucket on Sunday.
The ferry trip takes approximately six hours from the city to Nantucket and seven hours from New Jersey. For a complete schedule, please visit seastreak.com/daytrips-and-getaways/nantucket/.
To find out more, please contact Brett Chamberlain at 732-872-2628 x1982.