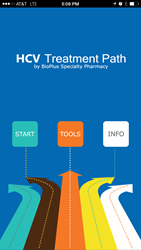 Altamonte Springs, FL (PRWEB) July 14, 2015
BioPlus Specialty Pharmacy (BioPlus), a pioneer in innovative pharmaceutical care, announces today the release of an updated version of the 'HCV Treatment Path' app. This app keeps health care providers informed of the latest treatment guidelines for chronic hepatitis C virus (HCV) infection.
The HCV Treatment Path app compiles up-to-date treatment guidelines from credible, scientific sources such as the American Association for the Study of Liver Diseases (AASLD). "Our goal, with the HCV Treatment Path app, continues to be getting the latest treatment protocols to providers. The providers already using this app rely on it in the decision-making process; we've received amazing feedback about the app from providers who appreciate the simplicity of accessing information they can trust," says Elvin Montanez, Pharm.D., Chief Operations Officer (COO) at BioPlus. "This updated version was necessary to continue putting the most relevant tool into providers' hands," he adds.
The field of hepatitis C treatment has undergone rapid evolution, in light of numerous newly approved medications and an evolving understanding of how each medication is best suited for different patient classes. "For example, the AASLD has made recent changes to recommendations for treatment naïve and treatment experienced patients, including new recommendations for patients who have tried and failed the medications Sovaldi, Harvoni, or Viekira," explains Monica Morgan, Pharm.D., Clinical Pharmacy Specialist for BioPlus. "With the HCV Treatment Path app, providers can quickly view the most up-to-date recommendations to assist them in making decisions about which treatment option is best for each patient," adds Dr. Morgan.
Learn more about the HCV Treatment Path.
About BioPlus Specialty Pharmacy
BioPlus Specialty Pharmacy is the first specialty pharmacy to introduce a two-hour turnaround from referral to patient acceptance. BioPlus... Where healing begins in 2 hours. Our company celebrates 26 years of innovative excellence in specialty pharmacy, working closely with payers and the pharmaceutical industry, as well as with prescribers to get prompt treatment for patients, and directly supporting our patients nationwide to achieve optimal health outcomes. Our proprietary web tool Tap App, connects prescribers to the pharmacy by bringing the pharmacy chart into the doctor's office with real-time specialty pharmacy information and treatment monitoring.
BioPlus provides a complete range of specialty services, including for hepatitis C, multiple sclerosis, cancer, bleeding disorders, and other complex, chronic conditions. BioPlus, a privately-held, pharmacist-owned company based in Altamonte Springs, Florida, is accredited by URAC, VIPPS, and the Accreditation Commission for Health Care (ACHC).
For information: http://www.bioplusrx.com or
Contact: info(at)bioplusrx(dot)com
Phone: 1-888-292-0744