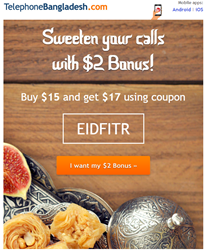 You guys are doing an excellent job! Thanks for the service. (Golam Kibria to TelephoneBangladesh.com Customer Support)
Atlanta, GA (PRWEB) July 16, 2015
Around the feast of Eid al-Fitr, TelephoneBangladesh.com offers Bangladeshi diaspora worldwide 68 minutes for calls to Bangladesh landlines and mobiles. This year too, all expats who celebrate Eid al-Fitr get $2 extra Voice Credit with coupon code EIDFITR. The bonus credit can be used for calls to family and friends back in Bangladesh. The coupon expires on July 18th. By this time, everyone who makes a minimum purchase of $15 Voice Credit and uses the coupon EIDFITR gets the bonus automatically. It takes 1 minute to go through the process on the website at http://www.telephonebangladesh.com.
The bonus credit can be used anytime for calls to family and friends back in Bangladesh, as well as other international destinations.
Calls can be made in 3 different ways using Voice Credit from TelephoneBangladesh.com:

from a PC to any phone, using the Web Call app available in one's online account; no download needed
from a smartphone using KeepCalling app for Android or iOS; free to install
from any phone using an access number in the area one lives; no Internet needed
The current promotion offers 68 extra minutes that will be transferred to one's account immediately after a Voice Credit order of minimum $15 using coupon EIDFITR on TelephoneBangladesh.com. The bonus consists of credit for international calls to mobiles or landlines in Bangladesh and will be charged 2.9 cents per minute.
The lowest rate for calls to Bangladesh is 1.3 cents / minute. One can benefit from it using the monthly plan "Bangladesh 1000" on TelephoneBangladesh.com. For $12.99 a month, one gets 1,000 minutes for calls to mobiles and landlines in Bangladesh. The quality is the highest on the market due to the VoIP technology used, as well as the satisfying protocols signed by TelephoneBangladesh.com team. The great thing about monthly plans on TelephoneBangladesh.com is that any subscription can be canceled and re-activated at anytime, with no penalties, according to everyone's personal needs.
Besides Voice Credit and Monthly Plans for international calls and SMS, the ethnic website provides an international refill service called Mobile Recharge. Also known as airtime, top up or refill, it helps expats send mobile credit to Bangladesh and it assures instant mobile credit transfer. For the moment, airtime can be sent to 6 operators in Bangladesh, among which Airtel, Teltalk, Grameenphone, Citycell.
The service called Mobile Recharge helps expats send mobile credit to their relatives and friends in their mother country in less than 1 minute, within the safest online environment. The amount sent doubles or triples during promotions.
The current promotion of $2 free extra Voice Credit is one way TelephoneBangladesh.com helps Bangladeshi expats to call their relatives and make up for the time they can't spent together sitting around the same table and talking.
To benefit from the 68 minute bonus, one needs to have a free account on TelephoneBangladesh.com. Those who have tried the service before know that it takes few seconds to register on TelephoneBangladesh.com and start making a first purchase, next get a PIN and use the Voice Credit service to call or send SMS.
Plus, if one subscribes to "Get Offers" during the registration process or later on the website (button down the page), similar promotions will be sent by email.
Here is what current customers appreciate about the service according to the feedback collected by the Customer Support:

No contract needed
No penalties
Free features
Easy to order, easy to use
Paypal and all major payment methods accepted, no matter the currency
Frequent promotions
KeepCalling app for calls from iOS and Android
High privacy protection (TRUSTe label)
100% security of transactions (Verified & Secured certificate)
Transparency of service and no hidden fees (BBB accredited)
100% Customer Satisfaction and 24/7 honest and friendly Support (BBB label)
Invoices and activity log available at any time in the online account
Mobile friendly website
About TelephoneBangladesh.com
TelephoneBangladesh.com is an interactive website designed by KeepCalling, a global telecommunications company registered in 2002 in USA. Presently, KeepCalling provides its services to hundreds of thousands of consumers and businesses, with a focus on customer satisfaction. KeepCalling has been listed by Inc 5000 in top 20 telecom companies in the USA for the last 4 years. In 2014 the company was designated the 18th fastest growing company in the telecommunications industry in USA with a revenue increase of over 600% from 2010 to 2013.