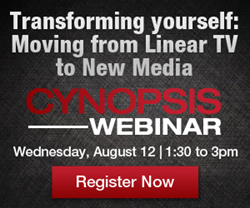 New York, NY (PRWEB) July 16, 2015
The media industry is rapidly moving from linear TV to new media, which means that's where some of today's (and tomorrow's) best opportunities lie. Cynopsis is presenting the informative "Transforming Your Career – Moving from Linear TV to New Media" webinar on Wednesday, August 12 to educate television executives on how to move successfully into the digital world and take advantage of the opportunities it offers without having to start all over in an entry level slot. Log on and discover the best strategies and tactics to achieve your professional goals.
Our expert lineup includes:

Steve Bookbinder, Co-Founder/CEO - Digital Media Training
Vikki Neil, GM & SVP - Scripps Networks Interactive Digital Brands
John Rohrs, President - Rohrs Media Group
Adam L. Snyder, Chief Digital Officer - Kwittken
Mary Olson-Menzel, Managing Director at Sagin Consulting and President, MVP Executive Search & Development (also moderating)
During this information-packed webinar, attendees will:

Hear high-level TV executives share their firsthand experiences on how they effectively crossed over from traditional to new media
Learn how much digital knowledge you really need in order to make a compelling case during the interview process
Drill down on which pieces of your current expertise will be of interest to new employers, such as sophisticated marketplace analysis, knowledge of key demographics, and brand messaging
Discover how to frame your experience as one that brings meaningful value to a new job
This highly interactive webinar will allow for real time Q&A's to ensure specific questions are answered. Register today for the Cynopsis webinar "Transforming Your Career – Moving from Linear TV to New Media."
All Webinar attendees will receive full access to speaker presentations for 1 year, along with a certificate of completion. Webinar tuition is based on location, not number of participants, so each registration site can have multiple participants for one low price. Questions? Contact Trish Pihonak at trish(at)cynopsis(dot)com.
About Cynopsis Media:
Cynopsis Media is a division of Access Intelligence LLC. The Cynopsis Media family of products includes Cynopsis, Cynopsis Digital and Cynopsis Sports daily e-publications, weekly Cynopsis Classified Advantage e-publications, Special eReports, Event/Summits and a strong database of Classifieds and more. Visit cynopsis.com.