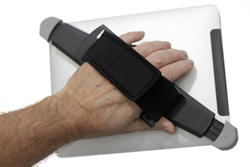 RANCHO CUCAMONGA, Calif (PRWEB) July 16, 2015
Ever since the advent of the Internet, "staying connected" has been a Quest-for-the-Grail type endeavor for the average person. Addressing that issue, Apple introduced its iconic iPad in 2010 to make staying connected easier and more convenient.
Unfortunately, for anyone who's used an iPad or Tablet for more than a few minutes daily on a regular basis, staying connected has come at a cost. It seems that remaining hunched over a small screen and maintaining a death grip on one of these cumbersome devices to ensure they don't drop and shatter has exposed unwitting users to an array of physical ailments, ranging from carpal tunnel injuries, to newly introduced maladies, such as text neck and iPad shoulder.
Fortunately, LapWorks, a leader in creating ergonomically-focused mobility accessory products, decided enough was enough and introduced their new soft grip tablet handles – the Gripzilla Omni for smaller devices and the Gripzilla Max for larger devices, both providing a safe, secure and comfortable way to hold an iPad or Tablet.
The first thing a user will notice about the Gripzilla is its simplistic design – it's built to be rugged and durable, yet it remains lightweight due to the use of high impact ABS material in its construction. One of its biggest differentiators is the fact the unit boasts a wide, stay cool, neoprene-lined adjustable Velcro hand strap that's capable of accommodating any hand size. Similar competitor products incorporate stiff leather or ballistic nylon, neither of which are gentle on hands during lengthy periods of use.
When it comes to performance and usability, the Gripzilla Handle is quick and easy to use, lined with hard rubber non-slip pads and incorporating strong, reliable spring-loaded arms with hard rubber corner captures that are guaranteed not to scratch mobile device surfaces. The unique corner capture system locks into place and never fails. It allows users to select which corners of the tablet are covered, so buttons, ports and cameras remain available for use. The unit boasts a swiveling hub that rotates 360 degrees, enabling easy switching from portrait to landscape, or anywhere between. Overall, the Gripzilla's unique design makes the unit effortless to use – attaching and removing an iPad or Tablet can be done in mere seconds.
The Gripzilla Omni fits tablets with screens ranging from 7 to 11 inches and works with all iPads and most Android Tablets, as well as the Surface 3. The spring-loaded arms stretch from 7.75 inches to a maximum of 12.75 inches. The Gripzilla Max fits tablets with screens ranging from 9.5 to 11 inches and works with all iPads (except the Mini) and most Android Tablets, as well as the Surface 3. The spring-loaded arms stretch from 10.75 inches to a maximum of 12.5 inches. With a maximum depth of 0.5 inch, both models can accommodate thicker devices, as well as newer tablets in a case.
Bottom line, the Gripzilla Omni and Gripzilla Max Soft Grip Tablet Handles help fight fatigue and cramping, reduce tablet heat by as much as 10 degrees and deliver hassle free, comfortable user experiences with each and every use.
The LapWorks' Gripzilla Omni and Gripzilla Max Soft Grip Handles are now available online. The retail price for each is $39.95, but both are currently available at the discounted price of $35.00, with free shipping. For more information visit the manufacturer's websites: http://www.laptopdesk.net or http://www.heldtite.com.
About LapWorks Inc.
Founded in 2000, LapWorks is committed to providing customers with high-quality ergonomic accessories that make a person's mobile life easier. LapWorks latest offering, the Gripzilla Soft Grip Tablet Handle, available in two models, adds yet another outstanding product to the company's impressive line-up of iPad, Tablet, notebook and gaming accessory solutions for everyone from homemakers to corporate professionals. Browse the company's selection of iPad and Tablet accessories at http://www.laptopdesk.net or http://www.heldtite.com, or call 888-527-3375 to speak to a knowledgeable customer service agent.
For further information, please contact:
José Calero, President
LapWorks Inc.
(888) 527-3375
jose(at)laptopdesk(dot)net
###