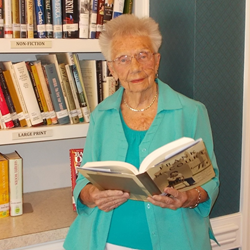 Her infectious zest for life is an inspiration for many who know her.
Suffolk, VA (PRWEB) July 15, 2015
Betty Ann Campbell received the prestigious Order of the Pearl award from Kappa Delta Sorority at their national meeting in Orlando on June 27, two days before her 93rd birthday.
"At 92, her infectious zest for a values-based life and continuous volunteer efforts are an inspiration not only for me but for many who know her," said her daughter Ann C. Robinson in the nomination narrative, which included recommendations from four other persons.
The Order of the Pearl recognizes outstanding community service in which Betty Ann has been involved for many years. In Norfolk she worked in several child abuse prevention activities and was recognized by the Governor's Advisory Committee on Child Abuse. She also advocated for children as a guardian ad litem while living in North Carolina.
Music and drama have played a big part in Betty Ann's life and led her to co-found the Center Front Senior Players at the Outer Banks.
After moving to Lake Prince Woods in 2002, she continued her activism for senior issues by being an election official at a Suffolk precinct. She collaborated with the Suffolk Electoral Board and was instrumental in bringing a mobile voter I.D. program to Lake Prince Woods and Suffolk.
Betty Ann has been Director/Accompanist for the Golden Voice Choir at Lake Prince Woods for the past 12 years and had a prominent role in the Suffolk Center for the Cultural Arts' production of "Steel Magnolias" in 2011.
Lake Prince Woods is a residential retirement community offering an array of lifestyle choices. Located in Suffolk, Virginia, the community is nestled among 172 lovely wooded acres bordering Lake Prince. As a continuing care retirement community, Lake Prince Woods offers residential living, assisted living, memory care and skilled nursing care. To learn more, visit the website: http://www.lakeprincewoods.org.