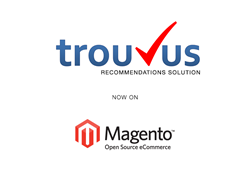 Toronto, ON (PRWEB) July 15, 2015
Trouvus, a company specialized in building machine learning and predictive analytics-based recommendations engines, is now offering a new recommendation system for Magento Platform retailers free of charge. This recommendations engine is easily integrated to the retailer's website through a plugin. The plugin requires minimal time and effort to install, and will greatly increase the value and performance of an eCommerce site by providing it with a recommendation solution that won't require a paid subscription.
The Trouvus Recommender plugin for Magento helps online businesses increase sales by providing personalized recommendations for products that are aligned to a customer's interest. The Magento platform is easily one of the most recognizable ecommerce platforms in the world, used by over 240,000 merchants. The Trouvus Recommender is installed easily through a "one click" implementation process.
The Trouvus Recommendation Engine helps online browsers discover products of their interest on a retailer's website. When customers browse through items on an online shop, their choices are recorded. This information, along with other behaviors of the customer, and the specifications of the items are cross-analyzed by the Trouvus Recommender in real time. It empowers the website to display user-specific recommendations for each client, enhancing their shopping experience. The recommendation system uses its predictive ability to produce unique personalized suggestions that are directly related to a consumer's interests.
"Our recommendations solution for the Magento platform delivers customized suggestions to buyers using their preferences and prior behavior. Test results show that the deployment of our system can increase sales by 30 percent or more, depending on retailer's website and their products and services," said Dr. Kabir, the CEO of Trouvus. He noted that the new plugin is completely free, and it brings tremendous benefits to any e-commerce website and its customers.
The Trouvus Recommender plugin for Magento facilitates converting browsers of the site into buyers and improves customer experience. It also helps enhancing cross-sell and up-sell through engaging and useful recommendations, increased total order value, and strengthen overall revenue.
Retail giants like Wal-Mart, Amazon, and eBay all make extensive use of recommendation systems to improve their customers shopping experience. The Trouvus Recommender gives small and mid-sized businesses that use the Magento platform, a competitive advantage by providing them with access to cutting-edge technology.
An analytical dashboard for the plugin will be released soon. It will assist retailers to track and analyze advanced metrics in their strategy formation process, promoting them to make informed decisions that will increase the value of their retail site.
About Trouvus
Trouvus, a technology company based in Toronto, Canada, provides businesses with real-time, personalized media and e-commerce product recommendations solutions. The Trouvus Recommendation Engine utilizes artificial intelligence and semantic web technologies that allow businesses to predict accurately user's need and provide unique content suggestions to customers based on a wide variety of factors.
Contact
The plugin is currently available in the Magento Extension Marketplace. For more information, contact info(at)trouvus(dot)com or visit http://www.trouvus.com