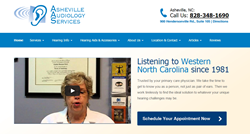 Hearing loss is permanent, cumulative, and virtually undetectable, but with early intervention it can be effectively treated.
Asheville, NC (PRWEB) July 14, 2015
Healthy hearing has been associated with several aspects of an individual's physical, psychological, and social health, and hearing loss has been found to negatively impact an individual's total quality of life. But two facts prevent most people from getting their hearing tested, according to Asheville Audiology Services.
First, hearing loss develops gradually over the years in increments too small to notice. Over the years, the cumulative hearing loss will significantly impact hearing, but the individual will not notice, and family and friends will typically notice first. Second, most family physicians do not routinely screen for hearing loss as part of the annual physical exam, and hearing loss does not present itself in the quiet environment of the doctor's office.
Because of these two facts, many people do not notice their own hearing loss and don't think to get it tested. But because hearing loss gets worse with time and is best treated early, Asheville Audiology Services recommends establishing regular hearing tests as part of an overall health plan.
According to Asheville Audiology Services, it's never too early to get a hearing test because it can establish a baseline for later comparison. Hearing is unique to the individual, so it's important to see how hearing changes over time rather than relying on the data of a single test.
After establishing a baseline, individuals should consider getting annual hearing tests after the age of 55. After the age of 65, one in three people will have some degree of hearing loss, so it's important to diagnose and correct it before it becomes severe.
Individuals younger than 55 with certain personal risk factors should also consider annual hearing tests. These individuals include employees of high-volume professions, such as musicians, construction workers, and farmers, who are continuously exposed to loud sounds. Also, anyone who experiences the symptoms of hearing loss—muffled hearing, difficulty following conversations, ear pain, dizziness, etc.—should schedule a hearing exam.
Asheville Audiology Services is encouraging people to schedule regular hearing exams and not to wait until the damage is already done. The fact is that hearing loss is common among all age groups and that many people work and live in the presence of several occupational and everyday risk factors. Hearing loss is permanent, cumulative, and virtually undetectable, but with early intervention it can be effectively treated.
About Asheville Audiology Services
Asheville Audiology Services is a full-service audiology practice located in Asheville North Carolina. Equipped with state-of-the-art technology and compassionate staff, Asheville Audiology Services offers comprehensive services including hearing tests, hearing aid evaluations, custom hearing aid fittings, hearing aid cleanings, rehabilitative counseling, preventive care advice, and service and repair for most hearing aid models.
Contact:
Cynthia B. Earle, Au.D.
Asheville Audiology Services
(828) 348-1690
http://www.ashevilleaudiology.com