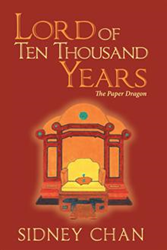 "Barely a century and a half ago, China was a country teetering on the brink of demise."
San Francisco, CA (PRWEB) July 15, 2015
Historically a male-dominated society, it was a rarity for women in China to hold high positions in power and politics; even more so in the 19th century.
However, one woman defied society and made a major impact on the state of China in the late 19th century. This power-hungry woman used her charm and cunning skills to wrest political power and run the government from behind the scenes. When crisis hit, she used extreme tactics that nearly brought down the empire.
This unique story inspired Sidney Chan's new historical novel, "Lord of Ten Thousand Years." Filled with colorful imagery, intrigue, and heroes and villains, Chan turns this historical saga, unknown to many, into an entertaining and educational read.
"Barely a century and a half ago, China was a country teetering on the brink of demise," Chan said. "I tried to capture the drama of that period of time, including palace intrigue and foreign intervention."
"Lord of Ten Thousand Years: The Paper Dragon"
By Sidney Chan
ISBN: 978-1480817296
Available in softcover, hardcover, e-book
Available online at Amazon, Barnes & Noble and Archway Publishing
About the author
Sidney Chan was born in China and educated in the U.S. He is a certified public accountant, but has continued his avid interest in Chinese classic literature and history. Chan lives in San Francisco and is active in the Chinese community. For many years, he was also active in San Francisco politics, serving as commissioner of police and commissioner of recreation and parks.