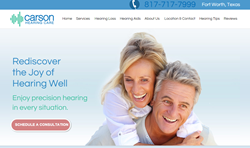 Hearing aids have come a long way over the last five to ten years, thanks in large part to the advances in digital technology.
Fort Worth, TX (PRWEB) July 14, 2015
Hearing aids have come a long way over the last five to ten years, thanks in large part to the advances in digital technology. But when most people think about hearing aids—and the associated problems—they are likely thinking of the older analog models, according to Carson Hearing Care, who recently published an article on the topic.
According to Carson Hearing Care, at the most basic level, all hearing aids, both digital and analog, work the same way. Each hearing aid contains a microphone, amplifier, speaker, and battery. The microphone picks up sound in the environment, the amplifier strengthens the signal, and the speaker delivers the louder sound to the ear.
The critical difference between digital and analog hearing aids, however, is that digital hearing aids add an additional step in the processing of sound: the conversion of sound waves into digital information, or into a series of 0s and 1s that the microprocessor can manipulate. In this way, digital hearing aids are like miniature computers that can manipulate data, in this case sound data, for a more natural listening experience.
Whereas analog hearing aids tend to amplify all incoming sound, including distracting background noise, digital hearing aids can filter out the background sounds while selectively amplifying only the frequencies that users have difficulty hearing. This produces a high-quality natural sound, making it easier to follow conversations even in noisy environments such as in restaurants or at other social gatherings.
Digital hearing aids also tend to be smaller, more attractively designed, and can be custom-programmed according to each person's unique hearing loss characteristics and listening needs.
Carson Hearing Care wants to remind everyone that getting the most out of a pair of digital hearing aids requires both the technology and the programming expertise of an experienced hearing professional. Hearing professions can test a person's hearing, help select the right hearing aid, and custom-fit and program each hearing aid for optimal results.
The original article titled The Digital Advantage: Analog Vs. Digital Hearing Aids can be read in its entirety at http://www.carsonhearing.com/digital-advantage-analog-vs-digital-hearing-aids.
About Carson Hearing Care
Carson Hearing Care is a full-service audiology practice located in Fort Worth, Texas. Equipped with state-of-the-art technology and compassionate staff, Carson Hearing Care offers comprehensive services including hearing tests, hearing aid evaluations, custom hearing aid fittings, hearing aid cleanings, rehabilitative counseling, preventive care advice, and service and repair for all hearing aid models.
Contact:
Robin Carson, Au.D.
Carson Hearing Care
817-717-7999
http://www.carsonhearing.com