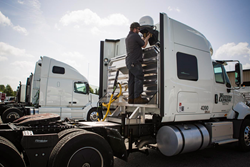 Salt Lake City, UT (PRWEB) July 14, 2015
EpicVue, providers of premium in-cab satellite TV packaged exclusively for the trucking industry, today announced that Western Express, Inc. is installing the systems in 1,600 power units. The largest single fleet installation of EpicVue will be completed by September, bringing a return on investment for the carrier in better driver retention, lower recruiting costs and improved utilization and efficiency.
"Our drivers are on the road for 7 to 14 days on average, so we wanted to give them one of the creature comforts they have at home," said Robert Stachura, chief operating officer at Western Express. "There is limited parking at rest areas and truckstops, and it can be hard to get Internet access at those locations, so we felt strongly that our drivers deserve to have this type of service.
"Everyone in the industry is trying to find ways to attract and retain drivers, and we feel that EpicVue in-cab satellite TV will have a positive impact on retention and it's something we can market to prospective drivers," Stachura continued. "We believe it will raise the exit hurdles for drivers and pay for itself in better retention and lower recruiting costs. It will also improve utilization, efficiency and productivity because it will encourage drivers to get on the road on schedule rather than stay home until their favorite show or a major sporting event is over. Satellite TV is coming to the industry in a big way and by adopting EpicVue now we will be on the front end of that trend, not trying to catch up to our competitors."
Western Express is planning an aggressive installation schedule for the EpicVue systems. The carrier's shop will install the satellite antennas, DVRs and 24-inch flat screen TVs in 150 to 200 tractors per week and plans to complete the installations by September. Once the 1,600 tractors in the company's truckload dry van and flatbed divisions are outfitted with the in-cab satellite TV systems, according to Stachura, the carrier will evaluate whether to install EpicVue in its 800 power units used in regional and dedicated operations.
"It's costly and difficult to attract and retain quality drivers," said Lance Platt, CEO of EpicVue. "We are very pleased that Western Express has realized that our in-cab satellite TV systems are an affordable way to provide comfort and convenience and make truck cabs feel more like home, while also realizing a fast and measurable return on investment."
Headquartered in Nashville, Western Express, Inc., is an asset based truckload carrier founded in 1991. The company, which provides truckload dry van, flatbed, dedicated, logistics and expedited services with a fleet of 2,400 power units and more than 6,500 trailers, has annual revenue in excess of $432 million.
About EpicVue
Salt Lake City-based EpicVue was formed by individuals with years of combined experience in the satellite and television industries. The company offers a TV viewing package specifically designed for commercial fleets. Used as a tool to assist with recruiting, retaining and improving driver quality of life, the EpicVue package brings more than 100 channels of DIRECTV programming, including premium channels such as HBO/Cinemax, SHOWTIME and the NFL Sunday Ticket, into the comfort of a driver's sleeper for a monthly subscription fee and without any upfront hardware costs. For more information, visit http://www.epicvue.com.
Media Contact:
Susan Fall
LaunchIt Public Relations
858-490-1050
susan(at)launchitpr(dot)com