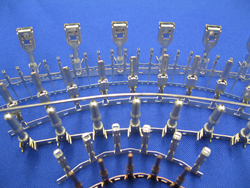 Horizon is Your Source for Complex Metal Stampings
EAST DUNDEE, Ill. (PRWEB) July 20, 2015
Horizon released the first corporate video of a new series introducing the inner workings of the metal stampings manufacturer. Each film will feature a different aspect highlighting Horizon's capabilities. This succession of videos is designed to promote engineering solutions by allowing the company to become more transparent in sharing its ideas and methods.
Each one to two minute sequel will be released four to eight weeks following the previous. There will be a series of four additional videos released over the course of 2015. Horizon hopes to create greater visibility on its unmatched ability to focus on customer objectives and how Horizon's efforts are in the best interest of the OEMs and Tiered suppliers they serve.
The video campaign is part of Horizon's initiative to usher in a rejuvenated corporate image and better demonstrate its sundry of strengths, while still reflecting its core competencies. Armed with a new logo, website and videos, Horizon is excited to invite you in and take you on a tour around the shop to experience the culture and passion that makes Horizon a winning solution. The main purpose of this campaign is to peel back the layers to reveal what makes Horizon tick and showcase everyday successes. Horizon not only takes pride in its custom stamped parts, but applauds the people behind the machines who put their heart and soul into each project.
For over 28 years, Horizon has played a vital role in empowering their customers by satisfying their project launch initiatives. Founded in 1987 by brothers, Pete and Dan Badovinac, Horizon is proud to be a first generation, family-owned and operated company. Customers in the Automotive, Electronics, Consumer, Industrial, Appliance and Defense Industries have come to recognize Horizon as a leader in metal stamping manufacturing for the most challenging and complex metal parts and assemblies. Horizon's product offerings include Bandolier Pins, Automotive Terminals, Compliant Pins, Lead-Frames and Insert Molding Stampings.
To learn more about Horizon's innovative stamping solutions, please visit http://www.horizondie.com, or call (847) 426-8558 for more information.