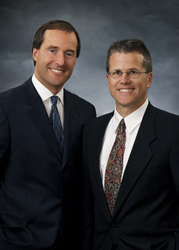 "...I am very excited about our work with Smile for a Lifetime..." Dr. Mart McClellan
Chicago, Illinois (PRWEB) July 30, 2015
Macro Wealth Management (MWM) Presidents have increased the number of children who will receive orthodontic scholarships through the Smile for a Lifetime program by encouraging their clients to donate their MWM planning fees to the Foundation.
The gift giving idea was created by MWM Presidents Dr. Mart McClellan and Tim Streid, who see charitable giving as an important part of financial planning for their clients.
"Being an orthodontist and a financial advisor, I am very excited about our collaboration with Smile for a Lifetime. Through this unique partnership, MWM is able to help young people who need braces but can't afford them and, at that same time, show orthodontists that they can give to great causes such as this and make their personal financial situation better by doing so!" says Dr. Mart McClellan DDS, MS., MWM President.
"We are truly grateful to be able to participate with MWM in this new partnership. We hope to serve many more children in the coming year and every dollar helps us recruit new chapters who in turn serve more children." states Michelle Von Fange E.D.
Smile for a Lifetime's mission is to..."create self-confidence, inspire hope and change the lives of children through the gift of a smile"... More than 200 orthodontists in 165 communities across North America participate in the S4L program. To date S4L chapters have donated over 20 million dollars in orthodontic services since their inception in 2008. Donations help recruit new chapters and increase the amount of smiles gifted to young people. Visit http://www.s4l.org for more information
Macro Wealth Management (MWM) is the only financial advisory firm in America who has an orthodontist as an advisor and utilizes a unique financial system that focuses on efficient money decisions. Presidents, Tim Streid (accountant, CLU) and Mart McClellan (DDS, MS), are investment advisor representatives, who offer a full suite of services to coordinate and integrate a dentist's financial life in the most efficient manner. They help their clients understand through evidence-based economics, that strategies, not financial products, position the orthodontist to be in the top five percent of dentists in America. Implementing their strategies also allow their clients to have more income during retirement and the ability to give to charities of their choice while not disinheriting their family. Making a win-win-win solution for clients, families and society.