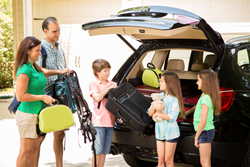 LINCOLN, R.I. (PRWEB) July 14, 2015
Summer is the perfect time to go on vacation, but it's important to secure your home before doing so. That's why Amica Insurance is sharing some tips to help deter burglars from breaking and entering.
According to the Insurance Information Institute (III), if it takes more than four for five minutes to gain access to a home, burglars will typically go elsewhere. Amica is also sharing the following tips from the III to prevent burglaries:

Leave blinds open in their usual position.
Have mail picked up or held by the post office.
Turn down the volume of the telephone ringer and answering machine so they can't be heard outside.
Have the lawn mowed so the home doesn't look unattended.
Use automatic timers for lights, and even consider connecting a radio to a timer.
Notify police and neighbors that you'll be travelling so they can keep a close eye on your home.
About Amica Insurance
Amica Mutual Insurance Co., the nation's oldest mutual insurer of automobiles, was founded in 1907. The company, based in Lincoln, Rhode Island, is a national writer of auto, home, marine and umbrella insurance. Life coverage is available through Amica Life Insurance Company, a wholly owned subsidiary. Amica employs more than 3,400 people in 44 offices across the country. For more information, visit Amica.com.
CONTACT: Vince Burks, Corporate Communications, 50 Amica Way, Lincoln, RI 02865-1155, 800-652-6422, ext. 24563
Twitter: Amica
Facebook: Amica Mutual Insurance Co.